cPanel: A quick intro to the cPanel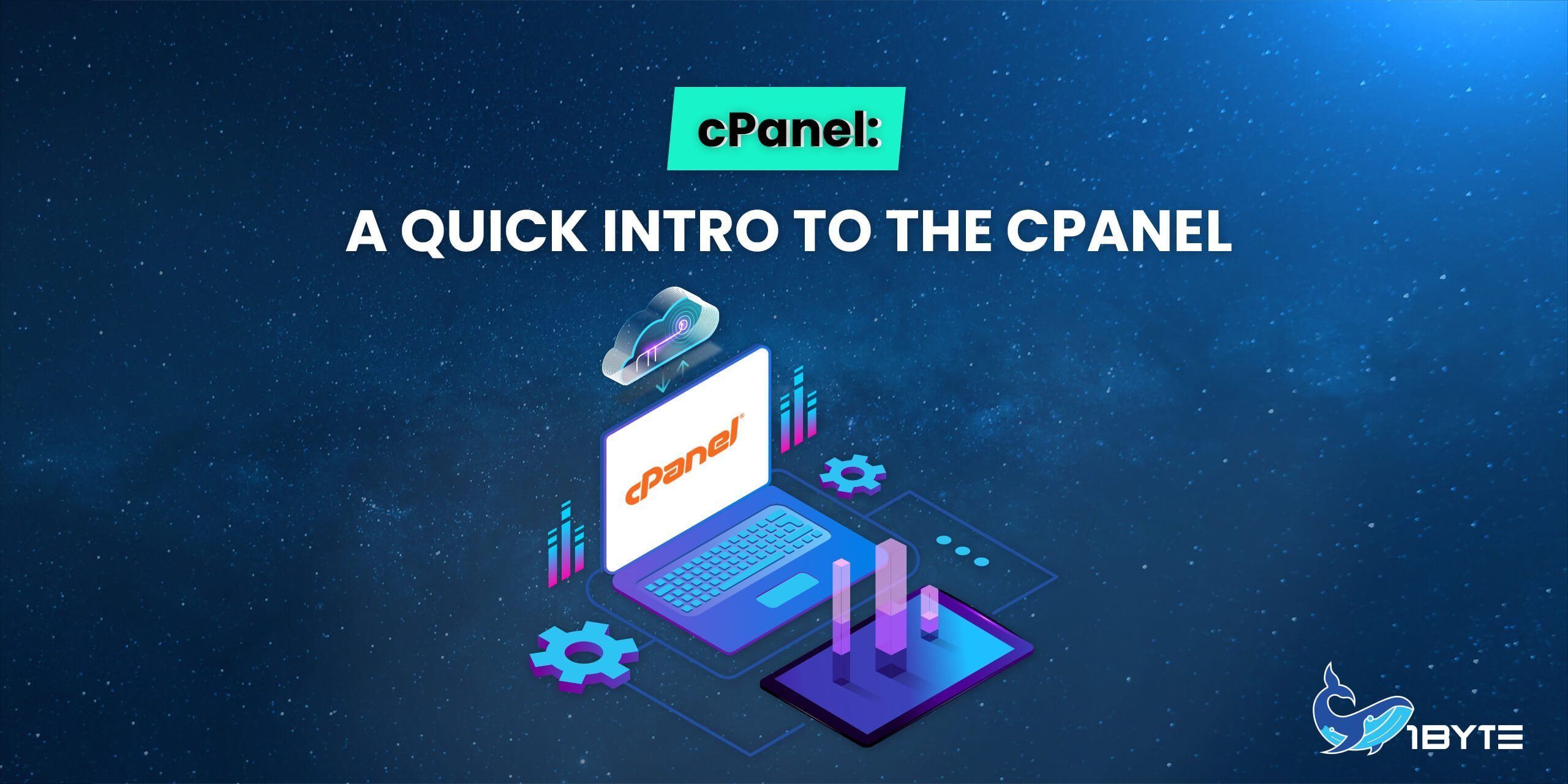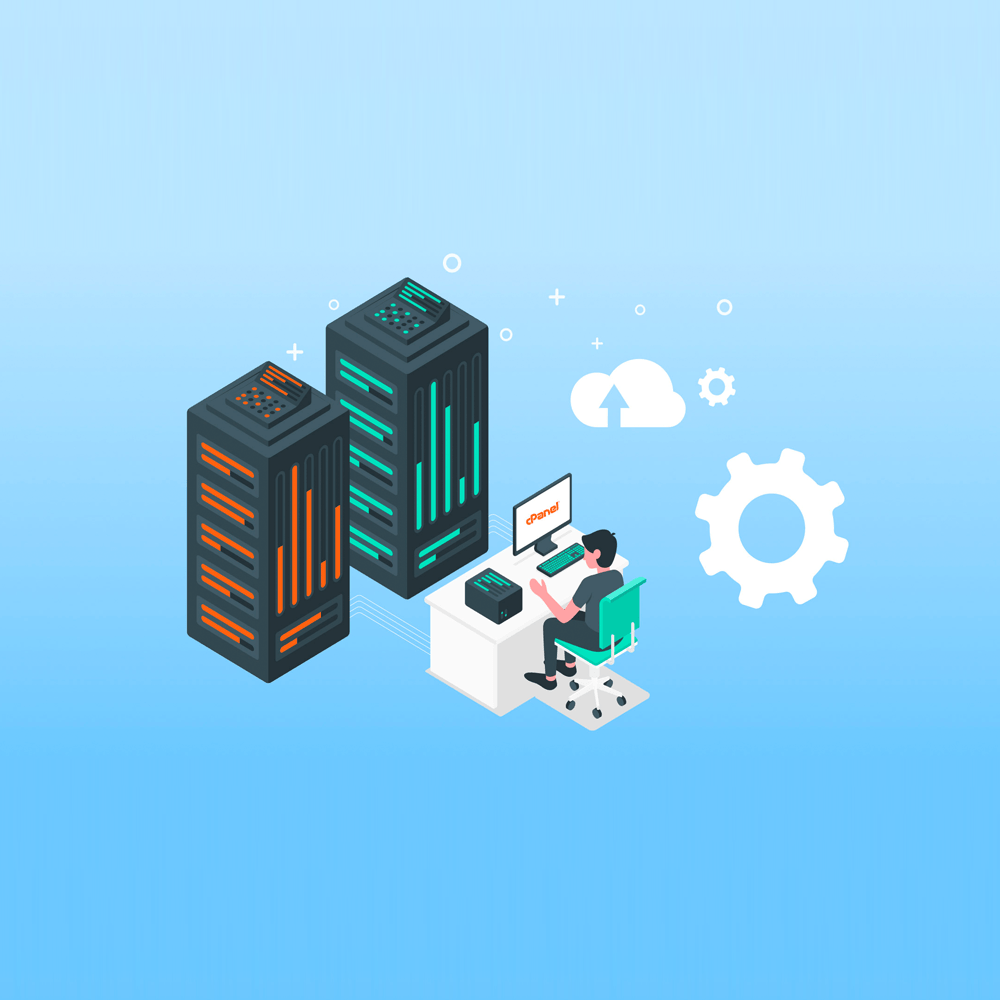 The cPanel control panel is probably recognizable to everyone who has ever signed up for a new web hosting account. This would be a fair estimate: 90% of all web hosting providers utilize cPanel. This is where the cPanel lesson below comes in.
So what's the point of going through this cPanel guide?
At 1Byte, we evaluate several
hosting systems
on a daily basis. We are well-versed in this material. This cPanel lesson was written with the beginner in mind, so we've tried to keep things as easy as possible. So there's no need to be concerned about it being overly complicated.
Ready? Let's start.
2) – What Can I Do in cPanel?
A great deal…This is where you'll find cPanel:
Connect domain names to your hosting
Set up emails for your site
Install WordPress (or another content management system)
Back up your website
Upload files to your server
Check your bandwidth and other usage stats
Change various security settings
Install add-on apps on your server
Create new databases/manage existing ones
Set up various optimizations
…and so on
We've just scratched the surface here; there's so much more to learn. Do not, however, allow yourself to be intimidated. Even while cPanel comes with a slew of features and customizations, you don't need to know about them all to keep your website running well. This manual will provide comprehensive coverage of all topics.
3) A quick intro to the cPanel interface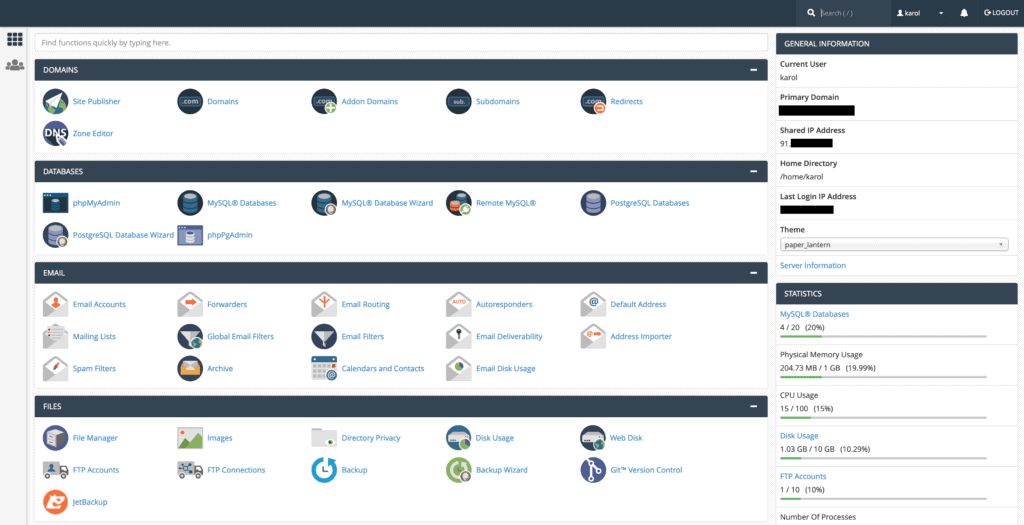 This is the version of cPanel that uses a theme called "Paper Lantern".
4) My cPanel Interface Looks Different! Now What?
Don't freak out. If you want to change the look of your cPanel, go to the
"PREFERENCES" section
and select "
Change Style
."

You'll be able to choose from a variety of options depending on what your host has to offer. In our instance, you may choose from the Basic, Dark, Light, and Retro design categories to best suit your needs.
The "Apply" button in the upper right corner adjacent to the style may be used to apply the same theme we're currently working on. It will take some time for cPanel to reload with the new layout.
5) Getting around the cPanel Interface
+ Navigation Bar
In the upper right corner of the screen, you'll find the navigation bar. All of these features may be found in one place on the page: a simple search form, a notification bell, and a link to your user settings.

The search field helps you to locate the most important settings within cPanel. Actually, utilizing the search field is a lot faster method to travel through cPanel than manually browsing around and getting to a certain feature. As you write, the search field begins to populate with results.
You may modify your password, language, and contact information by clicking on the user preferences link, and you can also reset the page settings with a single click.
The notifications bell is exactly what it sounds like – a location where you may view important updates regarding your hosting configuration or cPanel itself. Notifications are often used by cPanel to notify you of breaking news, crucial upgrades, security problems, or other important information.
The logout link is self-explanatory; use it after you've done working with cPanel.
+ Search Bar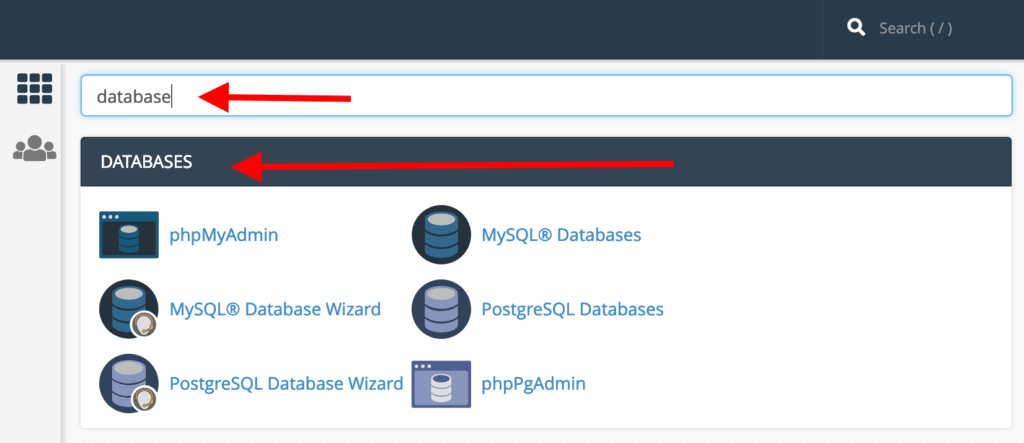 Aside from the one in the navigation bar, there is another search form accessible at the very top of the page, immediately below the navigation bar.
This one works similarly, except instead of displaying results in a drop-down, it will filter off the middle section of cPanel. Simply type in what you're looking for, and cPanel will find it for you.
+ Side Bar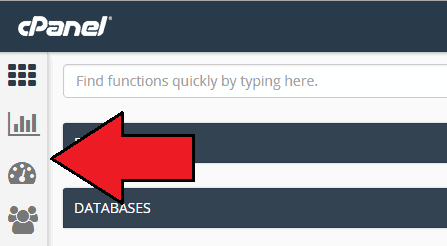 A sidebar with a few of icons will appear on the left side of your screen — the precise number depends on what your host makes available to you. In our instance, these stand for Home, Statistics, Dashboard, and User Management, in that order.
– Home is the primary page of cPanel where you can access most of the functions.
– Statistics show you a range of important numbers – how many email accounts, file transfer protocol (FTP) accounts, and domain names you have, as well as how much bandwidth and disk space you're using.
– The dashboard is a quick reference page where you'll find links to some of the most commonly used links, as well as at-a-glance look at your bandwidth and disk space usage, mail statistics, and more.
– User Management is where you can add or remove users from your cPanel account. You can also see which email accounts you've set up, as well as who has access to your FTP and web disk in case you're sharing an account with other users or admins.
Now you have the look and feel of cPanel. More in-depth blogs are to come.
END!!!