HostGator Cloud Pricing: The Complete Guide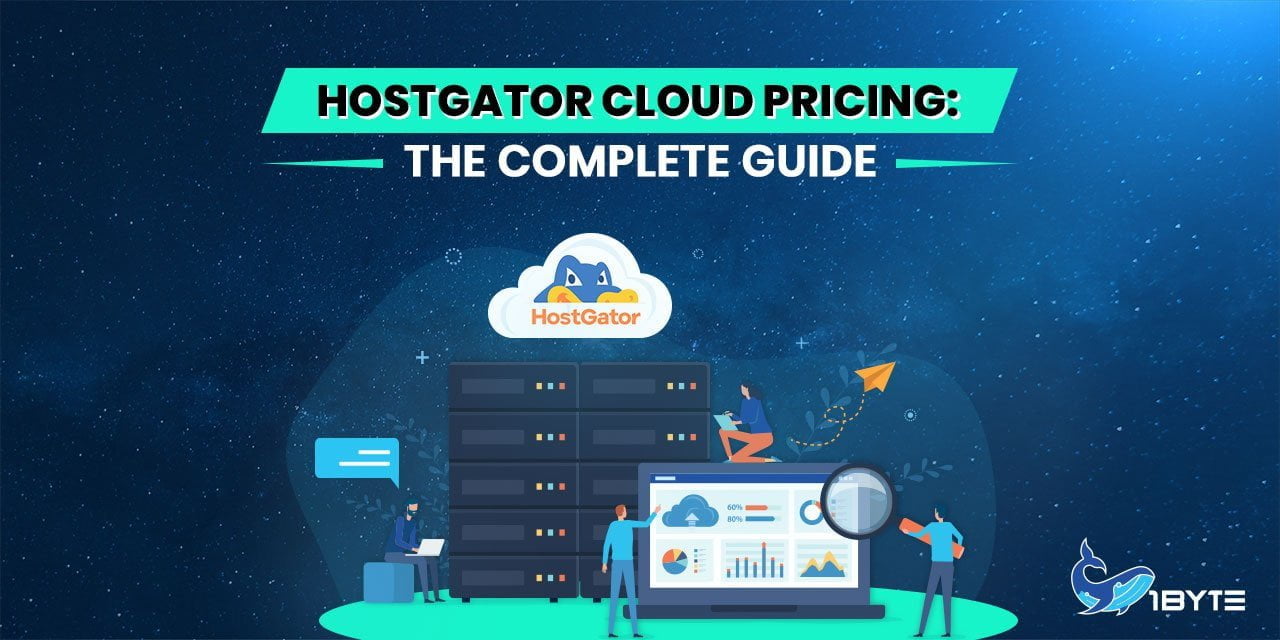 HostGator is one of the biggest web hosting companies, and it is also making a name for itself in the field of cloud computing. It's getting a lot of attention quickly because it has low prices, great services, and clever marketing. In this post, we'll show you the different cloud services that HostGator offers and help you find the best HostGator cloud pricing plan for your business.
We will focus on breaking down the pricing plans of HostGator's different cloud services. The article will also talk about the company's foundations and what makes them better than other service providers. Let's plunge in!
What is HostGator Cloud?
Everyone knows that HostGator is one of the web hosting services that gives you the most for your money. No matter how big your site is, you can choose a plan that fits your needs and is within your budget. These days, website owners have come to expect certain goals from cloud hosting, and HostGator also meets these expectations. That's why a probe into its growth will prove worthwhile.
The Foundations
Even though the company was started in a student dorm at Florida Atlantic University in 2002, its offices are now in the cities of Austin and Houston in Texas. HostGator offers three types of services to its customers: shared hosting, Virtual Private Servers (VPS), and dedicated hosting. Since its early days as a small web hosting company, the company has come a long way.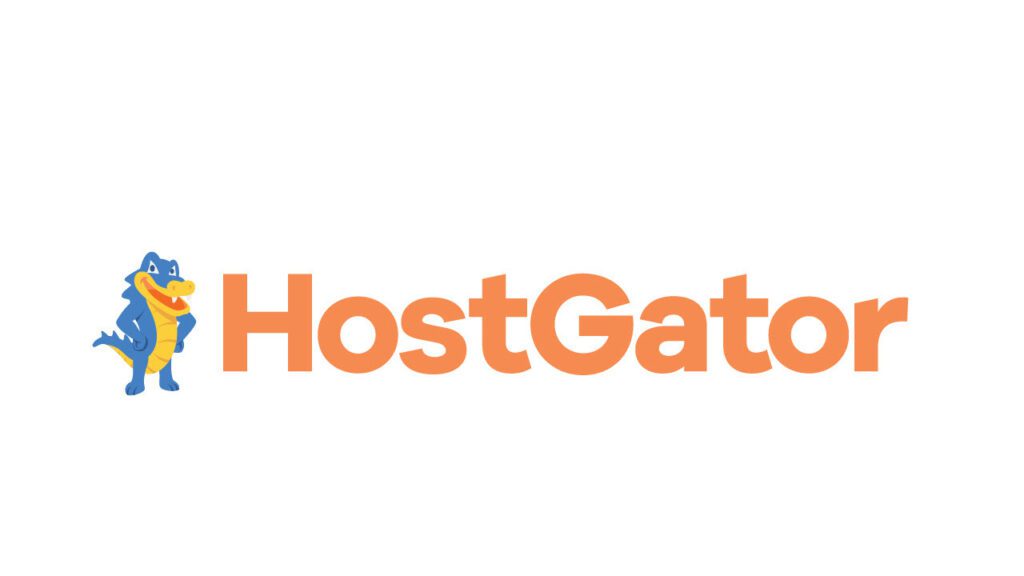 The company has been successful for a long time with its shared hosting services. Recently, it started selling HostGator Cloud Hosting, a new cloud product with attractive pricing plans. In contrast to the limited benefits of shared hosting, cloud hosting from HostGator makes websites load faster, are more stable, and have more resources available on demand.
The Reach
HostGator's headquarters are currently in Texas, and the company serves about 200,000 customers in over 200 different countries. It offers specialized services like shared hosting, virtual private server (VPS) hosting, dedicated hosting, cloud hosting, and reseller hosting, all of which are very popular with its customers.
According to data provided by HostGator, thirty percent of their clients are web professionals. Furthermore, they host more than two million websites, which is further evidence of their value to the world wide web. In addition, HostGator maintains their competency by having over 850 people on staff that provide help around the clock for businesses of varying sizes.
The Competitive Advantages
HostGator is a popular web hosting service because it offers a wide range of high-tech services and features that are both useful and cutting-edge. It shouldn't be a surprise that the company has a reputation for being one of the toughest competitors in the web hosting market in such a short amount of time. This is because working with HostGator gives you access to a number of benefits, such as smart site-building tools, a full database, and a guarantee that your website will be up 100% of the time. The same goes for when you choose HostGator Cloud.
HostGator is known as a company that cares about the environment because it uses renewable energy sources like solar and wind power to power its data centers. It is a great choice for professional internet users because it has a strong, responsive, and long-lasting foundation. The presence of the cloud is natural considering the company's eco-friendly properties.
What Features Does HostGator Cloud Have?
Website owners have come to expect certain goals from cloud hosting, and HostGator Cloud's hosting service meets these expectations. It does all of this at a price that is not too high. But is HostGator Cloud the right choice for you beyond their pricing? In order to help you decide, we've listed its most important features and compared them to those of other web hosting services we recommend.
1. User-Friendly
It's not hard to use the HostGator Cloud. Customers who are new to web hosting as well as those who have some experience will get a lot out of this option. When there are a lot of people visiting your website at once, the cloud plans give you the freedom to divide your resources however you want. This isn't the case with any of their other plans, which would force you to upgrade if you were getting close to using up all of your resources.
You won't have any trouble using the UI even if you've never done anything like this before. Another reason why the HostGator Cloud platform is so easy to use is that you won't have to worry about paying outrageous prices. If you go over the limits of your plan, you won't have to pay extra each month if you have one of these plans. This is one of the most important problems with other web hosting services.
2. Full Customer Support
HostGator Cloud's customer service is available 24 hours a day, 7 days a week, which is a must for web hosting. There is a good chance that the answer to your problem can be found in one of the many lessons that are conveniently located all over the place. This means you won't have to pick up the phone or start an online discussion.
On top of that, phone support and live chat are always available to help you with any bigger problems you might be having.
3. Speed
Cloud hosting can quickly get what it needs to run your website because it uses resources that are stored on a number of different servers. HostGator Cloud's automatic failover will make sure that your website works normally even if a piece of hardware breaks.
The same things that make HostGator Cloud reliable also improves its speed. HostGator Cloud caches and stores your content in the cloud, where it can be retrieved whenever it's needed. This makes pages load faster and gives users a better experience.
4. Freebies
Working with HostGator Cloud opens doors to features like managed cloud resources, data mirroring, and built-in caching that make this possible. All of these features come with your cloud hosting package at no extra cost. This pricing structure is not only popular within HostGator Cloud but also other providers as well.
You will also get free server monitoring, which will let you know if there are any problems with the hardware. When you sign up for the HostGator cloud service, you will also get access to the cPanel control panel. If you've been using cPanel with your current web host, you may be able to switch to our service for free.
5. Affordable Pricing
With monthly plans starting at just $4.95, HostGator Cloud's pricing is one of the most affordable options. It has some of the most competitive prices in its industry. Each plan comes with a free SSL certificate and an unlimited number of subdomains. This helps keep your costs down.
By taking advantage of the introductory rate, small websites and organizations can always have the resources they need for their site in the cloud, which is a benefit.
6. Cloud Resource Management
One of the best things about cloud hosting is that it lets you share resources like CPU, RAM, storage, etc., whenever and wherever they are needed. Your website can use your resources whenever they are needed because they are stored in the cloud.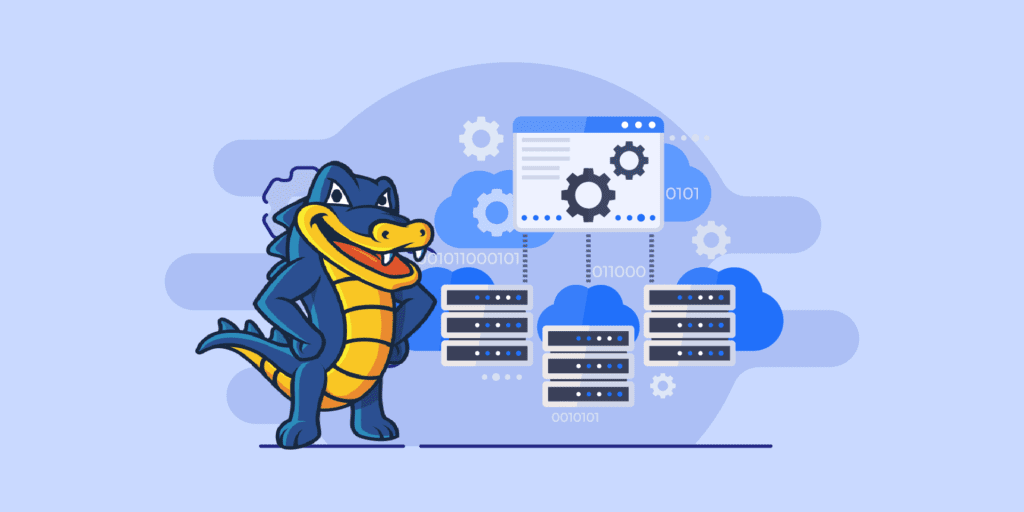 The resource allotment option that HostGator offers makes this benefit of cloud hosting even better. If your plan includes more than one website, you can make a separate budget for each one.
7. Data Security
People who own websites worry a lot about making sure that their data is backed up and safe from any possible threats. When it comes to the hosting plan you've chosen, there should be plenty of ways to keep your website's information safe. There are a number of safety features on the HostGator Cloud platform.
Data mirroring is the first method. This function will make three copies of your site, each of which will be saved on a different server. This will make sure that people can always access and feel safe on your website. When you add CodeGuard to your website, you can do daily automatic backups and one-click restores. However, these features will cost you money.
HostGator also takes steps to protect its servers from distributed denial-of-service (DDoS) attacks, which are meant to stop traffic and bandwidth by focusing on the server. Flood protection is made possible by HostGator's detection settings and rules, which help keep your data and website safe. This safety measure is put in place on every server that HostGator manages.
You can add SiteLock to your hosting plan to protect your website even more. Thanks to this feature, your website will now be safe from viruses, security holes, and bot attacks.
8. Unmetered Bandwidth & Storage
With HostGator Cloud, you will have access to what is called "unmetered bandwidth" and "unmetered storage." This makes sure that the provider won't charge you extra even if you end up using more bandwidth or storage space in one month than another. Your costs will stay the same no matter how much you spend on them.
But this doesn't mean that you'll have unlimited storage space or bandwidth. Customers of HostGator must continue to follow the company's Terms of Service when it comes to disk space and bandwidth. If you use more than what HostGator considers to be a reasonable amount, the company may ask you to cut back, and if you don't, they may mess with your website.
9. Add-Ons
CodeGuard and SiteLock can be added to any HostGator Cloud's pricing packages for an additional cost. These two inexpensive add-ons cost only $2.00 and $1.99 each month.
You can also use Gmail from Google Cloud to give your account a more professional look by giving it a professional email address for an extra $6.00 per month. You can also buy SEO Tools, which for $2.95 a month will submit your website to search engines and check its pages to make sure it is doing as well as it can in search engines.
Last but not least, you can upgrade your website's SSL certificate for an extra $3.33 per month. Your Cloud website comes with a free version, but if you upgrade to the premium version, you can put an SSL badge on your website and avoid having your warranty void.
A Breakdown of HostGator Cloud Pricing Packages
When you use HostGator's cloud-based shared hosting, your website will load twice as fast. This is because your website will be hosted on a low-density server with good hardware and several layers of cache.
Also, plans for cloud hosting give you access to four times as many resources as plans for shared hosting. If you decide that this option is the best one for you, you will have a few choices. Specifically, HostGator offers three different cloud pricing plans. Each one gives you better performance, less downtime, and a dashboard that is easy to use. You will get these free domain names in addition to the domain names you buy.
Let's look at each different cloud hosting package in more detail.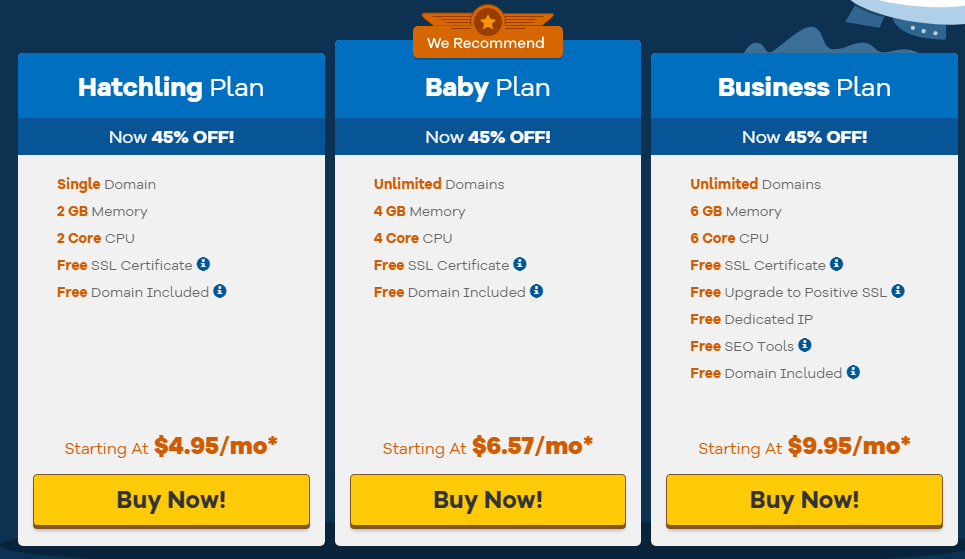 1. Hatchling Cloud
HostGator's cloud hosting plans start with the Hatchling Cloud, which is the most basic plan. It can hold 2 gigabytes of memory and is made to host a single domain. Like all other cloud plans, the Hatchling plan comes with a free SSL certificate and a free domain name.
The price of this plan starts with a deal for the first month of service that costs $4.95 per month. If the contract is renewed, your payment will stay at $8.95 per month. To buy the SiteLock monitoring service, the CodeGuard site backup service, professional email service, and the HostGator SEO tools, you have to pay extra each year.
This package is perfect for websites that have just started up and want to move their hosting to the cloud. Even if you can add more resources on demand, it's likely that you'll need to upgrade as the total amount of monthly traffic to your site grows.
2. Baby Cloud
For new cloud users, this pricing plan costs $7.95 per month for the first year. After that, it costs $11.95 per month for the first year. They are currently running a promotion where you can get the price of the first month for only $6.57, which is a great deal. The Baby Cloud plan costs $6.57 per month and gives users 4 gigabytes of RAM, four CPU cores, and unlimited parked domains in addition to hosting for an unlimited number of domains. For only $9.95 per month, the Business Cloud plan gives you a dedicated IP address, six CPU cores, and six gigabytes of RAM.
To get the discount, all you have to do is sign up. When you check out, the discount will be automatically added for you. It's likely that the vast majority of readers will find it to be the best choice.
3. Business Cloud
The Business Cloud is HostGator's most advanced cloud hosting package. It also lets you host an unlimited number of domains with a single package, just like the Baby Cloud.
On the other hand, the Business plan gives you access to 6 cores, while the Hatchling plan and the Baby plan only give you access to 2 and 4 cores, respectively. With your HostGator Business Cloud, you also have access to 6 gigabytes of RAM.
It is the only cloud hosting plan that comes with SEO tools and a dedicated IP address as part of the package. These features aren't part of the Baby Cloud plan because the Hatchling plan charges extra for them.
Considering that the Business Cloud's most basic plan starts at $9.95 per month, this extra feature is a great deal. Keep in mind, though, that the renewal fee will go up to $17.95 per month once the original term of your contract has ended.
Conclusion
HostGator Cloud is an excellent beginner-friendly cloud hosting provider with a low barrier to entry. This is because HostGator Cloud gives users access to a large knowledge base with hundreds of helpful lessons and tips. If you need more help, you can talk to a representative who can help you through live chat. Because these agents are available around the clock, you can get the help you need no matter where you are or what time it is.
As a cloud service provider ourselves, 1Byte feels it's important to provide our customers with information on the giants of the sector, which will in turn give you an overview of the growth and advancements in the field. We hope that we provided that with this article. Should you have any question regarding the cloud or hosting, don't hesitate to contact us; we're always on call, always ready to help!