Imagine you are building your business website and plan to make a lot of money selling products online or you are starting a website and need to find a hosting provider that can provide you the hosting server. But you are confused about the concepts of hosting, shared hosting, and VPS hosting and you don't know how to decide. Besides, you don't want to invest too much in unnecessary services, but you also don't want to choose cheap and low-value services. To determine which hosting service is right for your website, you need to understand VPS vs shared hosting. No worries, we'll help you. Let's figure out what is the difference between the two most popular types of web hosting that best suit your needs – Shared Hosting and VPS Hosting.
The Definition: VPS VS Shared Hosting
Shared hosting is a service of web hosting that allows multiple websites to share one physical web server and its resources among that server. The hosting provider will split the resources contained in the server to serve users. Imagine you have a hotel with a dorm where many guests can live together sharing the air conditioner.
In the case that your hotel has many rooms and each guest must stay in a separate room that is called VPS – Virtual Private Server. VPS is a form of virtual server created by dividing a physical server into many different virtual servers with similar resources as a private server like RAM, CPU, and Hardisk.
You may be wondering if you are sharing resources from the same server, what is the difference between shared hosting and VPS? Actually, it comes with sharing a server resource, but with shared hosting, this resource is limited. While each VPS has completely separate RAM parameters and you can use all these resources. Thus, if you use shared hosting, you have to share your computer resource only with other websites. While with VPS, if you have 2 RAM, 2 cores, and 2 CPUs, you can completely use this resource.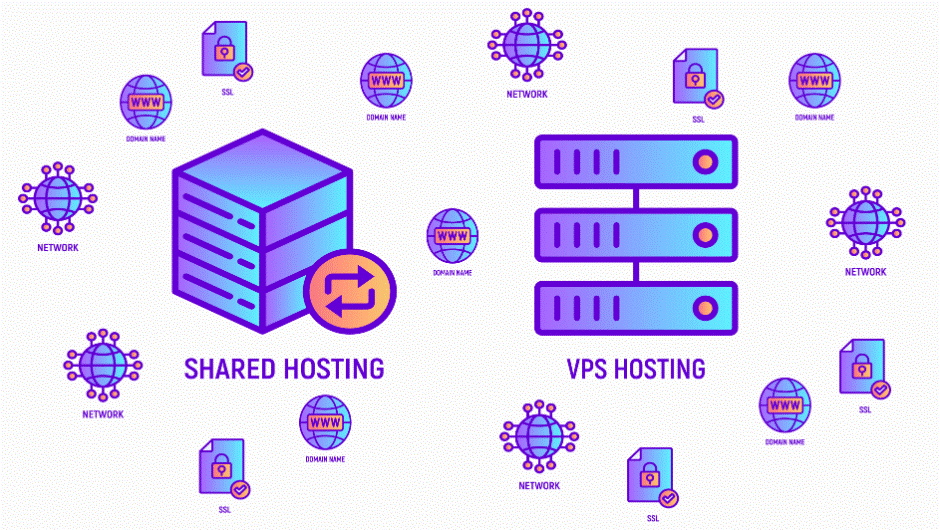 Security and Performance
Security is essential no matter what type of website you own. Both types of hosting are relatively safe and stable methods to host your website, but there are some differences.
With shared hosting, your website can be affected when there is an error on another website. Also, if other sites take up too much of your shared bandwidth, your site may slow down. This is especially important if your website has a high number of hits.
You can avoid this problem by using a VPS, as the partitioned servers make sure each site performs the same. However, if you lack the technical knowledge on how to take care of your virtual private server, you should consider your options. When poorly managed, it can lead to a whole bunch of other problems.
Resource Allocation
Shared hosting is suitable for individuals and small businesses because you don't have advanced access to the system. As the name suggests, on a shared hosting plan, you share resources with other websites on your server. If one site uses a lot of bandwidth, other sites are affected.
For VPS hosting is less limited. Since you keep a large portion of the server's hardware, you have more resources. You will also have root access to the server environment, which means you can install additional software and edit any file on the server. Besides, it can respond and immediately fix damaged errors when the website has a problem during use.
Control
Web development companies, large business websites, that have a lot of traffic, or businesses that need a running database server or develop their own software and services should use VPS. It gives you root access to the server, so you can install your own operating system, control panel, and software for optimal website performance and security.
On the other hand, a shared hosting plan limits you only to standardized server setups. This might be more convenient for people who don't want to interfere with server management tasks on their own.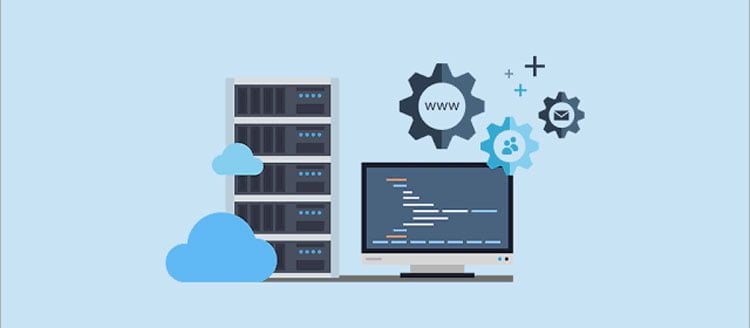 Server Administration
If you choose to host your website with shared hosting, you won't need technical maintenance. That means you can enjoy basic server administration for your website at no extra cost to your budget or precious time. Shared hosting providers will set up shared servers, install and upgrade necessary software, and monitor topic servers to avoid downtime and effectively take care of the back end.
In contrast, VPS hosting is a bit more complicated when it comes to resource management. It takes a little more advanced knowledge to operate and manage. Fortunately, VPS hosting allows you to customize and configure applications and software to boost your performance.
Scalability
VPS hosting allows you to scale quickly and easily, and if you can predict your website growth, VPS hosting can be a great investment in the future. Although shared hosting is a good option for a short-term plan or a small online site, you will have trouble with the overall performance if your site reaches high traffic numbers. However, please consider carefully to be able to choose the best service according to your needs.
Pricing
The first thing to mention is that both shared hosting and VPS hosting have different prices. Of course the more expensive the plan you go for, the more you get from the above ( resource, security, performance..) Secondly, all providers mentioned in our table have different promotional prices. For example, 1byte.com has a great deal for only $1.45/ month and $ 17.40/year for shared hosting.
Shared Hosting vs VPS Hosting: Pros and Cons
Shared Hosting
Pros
Least expensive of all hosting options
A website can use many domain names, large bandwidth
You can manage multiple websites on one hosting account
Users can monitor information and manage logins by bandwidth and capacity
Cons
Is prone to errors when there is a high traffic
You have limited access to the back end
Lower security and resources limited than VPS
Read our detailed article on advantage and disadvantage of shared hosting
VPS Hosting
Pros
Large private storage space, high overall resource capacity
A website can use all resources of VPS
Good overall performance. The user has full access to the system
It is not affected by other site's traffic
Cons
Cost is higher than shared hosting
Needs technical expertise to manage well

Top FAQs From Our Readers
When should you switch from shared hosting to VPS hosting?
Shared hosting is not for websites that use large amounts of RAM. As your site grows, the traffic and file grow. At that time, you will see the page load speed will be affected. Now VPS hosting will be an optimal choice for you. With the ability to scale websites without worrying about slow loading anymore. If you have enough budget as well as a certain amount of traffic, this is the time to invest in your website.
What other providers offer website hosting?
We reviewed a lot of hosting providers, tested their features, analyzed their help and support, and saw if they give you real value for money.
Since different types of hosting meet very different needs, we researched each provider and tested each hosting type they offer. So who came out on top?
Top 3 Providers in Cambodia
1Byte
Bluehost
HostGator
What's the Difference Between a Vps and a Vpn?
VPS is a hosting service that uses virtualization technology to divide a single physical server into many different virtual servers. VPN is a technology that helps ensure that information transmitted on the internet is completely private. Anyone who intends to access or intercept the transmission can't read the information because it is encrypted. For instance, if you have a large and high-traffic website, you should use a VPS. You can then use VPN software while on the internet to manage the website and protect data sent over the internet.
Conclusion
You should now have a good understanding of what both shared hosting and VPS hosting are, and the key differences between them. Not only that, you'll know which type of hosting suits which type of website. However, there are benefits to both hosting options.
Before you choose a web hosting plan for your site, consider what kind of features you're most interested in. Here's a short recap:
Security and Performance: With shared hosting, you are essentially sharing space with other users on the server, but if a website on your server is hacked, you are at risk. VPS hosting can install personal security software to ensure you're protected, even if others on your server aren't, but does require additional technical knowledge.
Server Administration: Shared hosting is suitable for beginners and small businesses compared to VPS, but lacks freedom of customization compared to the latter option.
Scalability: VPS hosting is capable of growing your website, up to large corporate sites to share hosting
Pricing: Both plans are priced differently with different benefits but the shared hosting plan is less expensive than VPS. However, before making your choice, you should consider all website hosting costs.
In the end, depending on your choice, choose the appropriate services. No matter your pick, we hope that this guide has been useful to you.