10 Reasons to Get Excited about ASEAN Para Games 2023 in Cambodia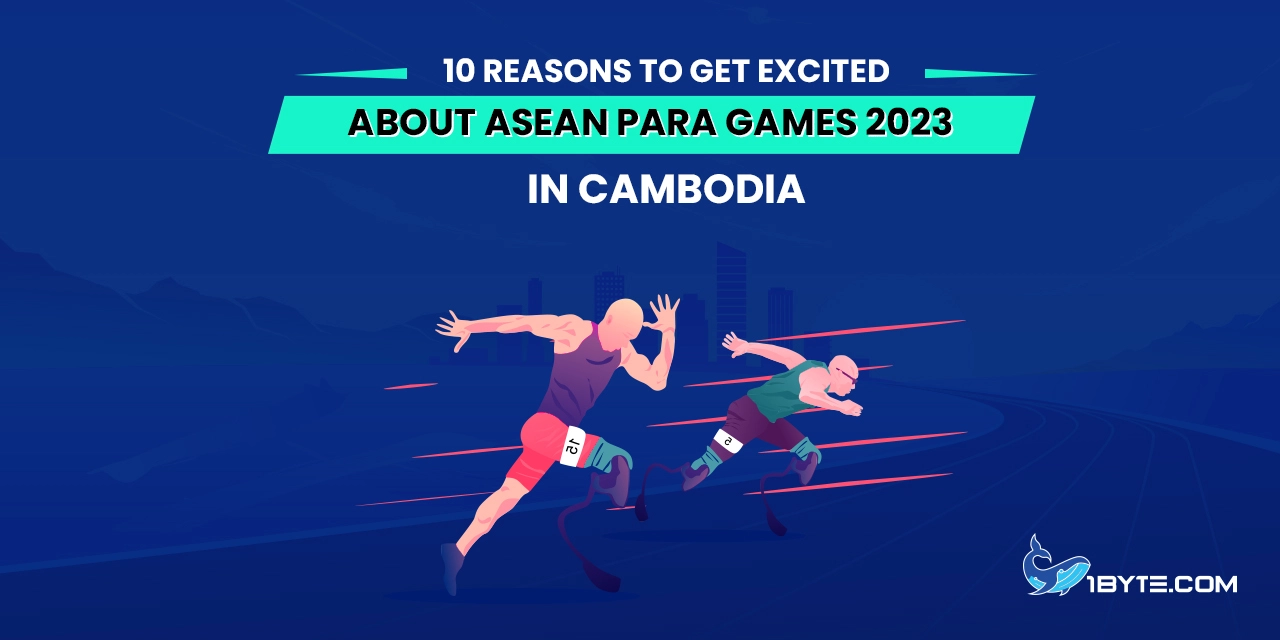 Get ready to applaud and be delighted because the ASEAN Para Games 2023 will be happening soon in the capital city of Cambodia, and it will be spectacular!
This widely anticipated event celebrates athleticism, perseverance, and inclusivity. Athletes from across the ASEAN region will converge in Phnom Penh from the 3rd to the 9th of June 2023 to compete in a range of sports. The ASEAN Para Games 2023 should not be missed if you are a sports fan, a follower of inspiring stories, or simply someone who enjoys watching remarkable feats of human might. This post will go over ten reasons why you should be excited about this incredible athletic event. So, let's get started and find out what makes the ASEAN Para Games 2023 so unique!
Witness history in the making
Watch history being made at the ASEAN Para Games 2023 in Cambodia! This is a historic event because Cambodia is hosting the games for the first time since the games began in 2001.
It is a once-in-a-lifetime opportunity to be a part of this historic occasion and witness the beginning of a new chapter in the ASEAN Para Games. Cambodia's hosting debut adds an interesting dimension to the games, providing a sense of surprise and anticipation.
Experience the thrill and diversity of 12 sports
Prepare to be wowed by an exciting lineup of 12 sports at the ASEAN Para Games 2023 in Cambodia! The games provide a fascinating and diverse choice of sports tailored exclusively for players with impairments.
There's something for everyone, from the fast-paced excitement of blind football and wheelchair basketball to the strategic skills of chess and boccia. Each sport tests the para athletes' physical and mental ability, providing for an exciting and awe-inspiring sight.
6 days of excitement
Mark your calendars for June 3-9, 2023, and prepare to be a part of an incredible sports and culture event.
The bustling capital city of Phnom Penh will be the epicenter of all activity. Immerse yourself in the vitality of this vibrant city that elegantly combines heritage and contemporary. Phnom Penh has something for everyone, from lively marketplaces to breathtaking architecture.
While watching the para athletes, take advantage of the opportunity to learn about Phnom Penh's rich history and traditions. Visit the magnificent Royal Palace, take a stroll along the Mekong River, and learn about the intriguing history told in the city's museums and temples.
More than 1,400 participants
More than 1,400 para athletes from 11 Southeast Asian countries will compete in the ASEAN Para Games 2023 in Cambodia. It's an experience that will leave you inspired, awestruck, and full of admiration for the resilient human spirit.
The games bring together para athletes from all around the region, encouraging camaraderie and good competition. It's an opportunity for kids to make long-lasting friendships and memories that cross borders.
You'll see the genuine definition of sportsmanship and the steadfast attitude of never giving up as you watch these para athletes compete. Their devotion and hard work motivate us all to overcome obstacles and pursue our aspirations.
Morodok Techo National Stadium
The spectacular Morodok Techo National Stadium hosts the ASEAN Para Games 2023! This cutting-edge facility is the ideal location for this important athletic event.
The stadium's outstanding capacity of up to 60,000 fans ensures that everyone can share in the thrill. Consider the electric atmosphere created when fans gather to support their favorite para athletes.
The design of the Morodok Techo National Stadium is absolutely distinctive, drawing inspiration from the famed Angkor Wat temple. You'll be greeted by architectural aspects reminiscent of this UNESCO World Heritage Site as you enter the stadium.
Message of Peace
The ASEAN Para Games 2023 convey a strong message of peace and harmony, as encapsulated by the theme "Sports Live in Peace." This phrase expresses Cambodia's and the region's shared desire to promote unity and understanding through the medium of sports.
Cambodia hopes to demonstrate the transforming power of sports in encouraging international peace and harmony by hosting the games. It serves as a reminder that, despite of our differences, sports have the power to bring people together, breaking down barriers and instilling a sense of unity.
A double celebration
It's truly a sports and culture festival in the Kingdom of Cambodia! The ASEAN Para Games 2023 will be preceded by the 32nd Southeast Asian Games, which was held in Cambodia from May 5 to 17, 2023.
This means that Cambodia will be buzzing with excitement and energy as two major sporting events take center stage one after another. It's an unprecedented opportunity to experience the thrill and spectacle of not just one, but two prestigious games in the same year.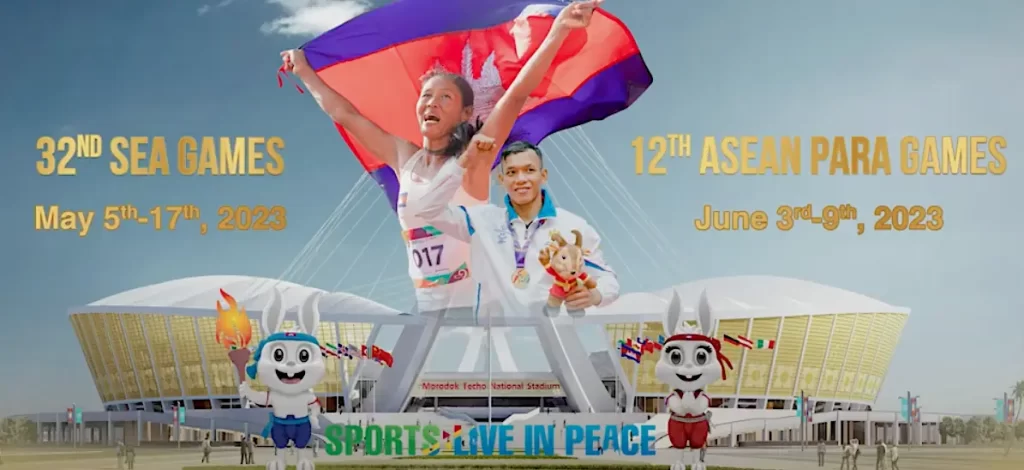 Back-to-back hosting of the Southeast Asian Games and the ASEAN Para Games demonstrates Cambodia's commitment to sports promotion and the development of a dynamic sporting culture. It shows the country's dedication to establishing an inclusive environment in which athletes of all abilities can excel.
Support from the ASEAN Para Sports Federation (APSF)
The ASEAN Para Sports Federation (APSF) and its member countries have unflinching support for the ASEAN Para Games 2023. They have committed their entire support and cooperation to ensure the event's success in Cambodia.
The APSF, which is made up of dedicated organizations and passionate individuals, is critical in promoting and growing para sports throughout the ASEAN area. Their contribution demonstrates a strong commitment to inclusivity and paraathlete empowerment.
Cambodia can rely on a plethora of expertise and experience in hosting world-class sporting events with the support of the APSF and its member countries. This collaboration ensures that the ASEAN Para Games 2023 will reach international standards and give athletes and spectators with an unforgettable experience.
An opportunity to showcase Cambodia's rich history
The ASEAN Para Games 2023 in Cambodia will provide an excellent opportunity for the country to showcase its rich history and tradition to the rest of the globe. Visitors will be able to delve into Cambodia's interesting heritage as athletes from all across Southeast Asia come for this famous tournament.
Cambodia is a treasure trove of historical wonders, with its ancient temples, notably the world-renowned Angkor Wat. With their elaborate patterns and cultural significance, these architectural marvels remain as testaments to the country's great past.
During the ASEAN Para Games, you will get the opportunity to view the majesty of Angkor Wat as well as discover other hidden jewels like as the mystical Ta Prohm temple surrounded by tall trees and the detailed sculptures at Banteay Srei.
But Cambodia is more than just its old history. The games also allow spectators to see the country's current development and advancement. Phnom Penh, the dynamic capital city, has a thriving urban landscape that blends modern and traditional aspects seamlessly.
Walking through Phnom Penh's crowded streets, you'll experience the dynamic energy of a city that is fast modernizing while still embracing its cultural heritage. You'll find the right blend of heritage and modernity in everything from fashionable cafes and restaurants to modern retail centers and entertainment venues.
Be inspired and motivated by the para athletes
Finally, the extraordinary people present at the Para Games are vying not only for medals, but also for recognition and respect.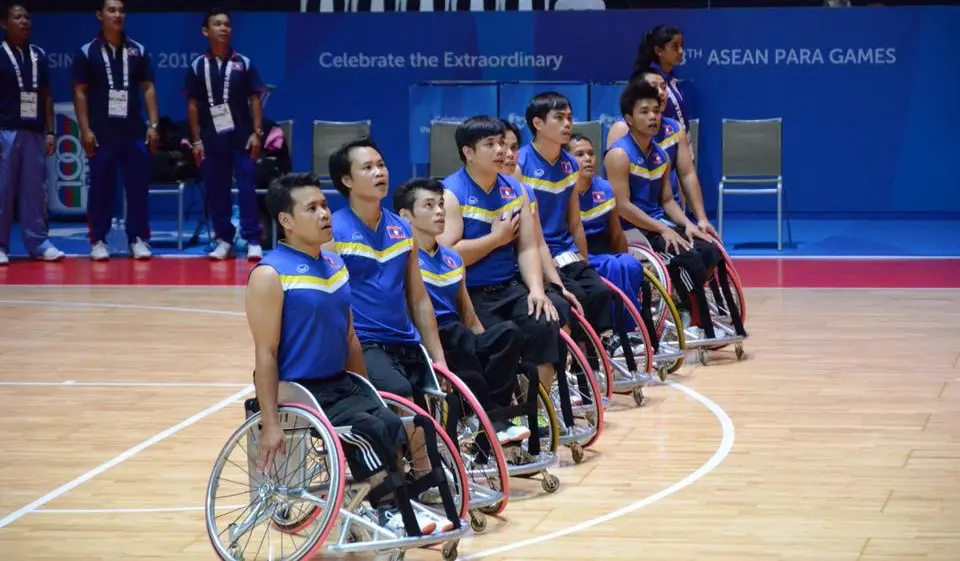 These para athletes' stories are packed with bravery, dedication, and resilience. They have overcome enormous obstacles to pursue their aspirations and excel in their respective sports. Their adventure exemplifies the indestructible nature of the human spirit and the power of endurance.
Listening to their stories and seeing their great accomplishments will inspire you. You'll acquire essential lessons about perseverance, passion, and the relentless pursuit of perfection. Their journeys will serve as a reminder that no matter what hurdles we face, we can overcome them and accomplish our aspirations.