Best Offshore Hosting Providers in 2023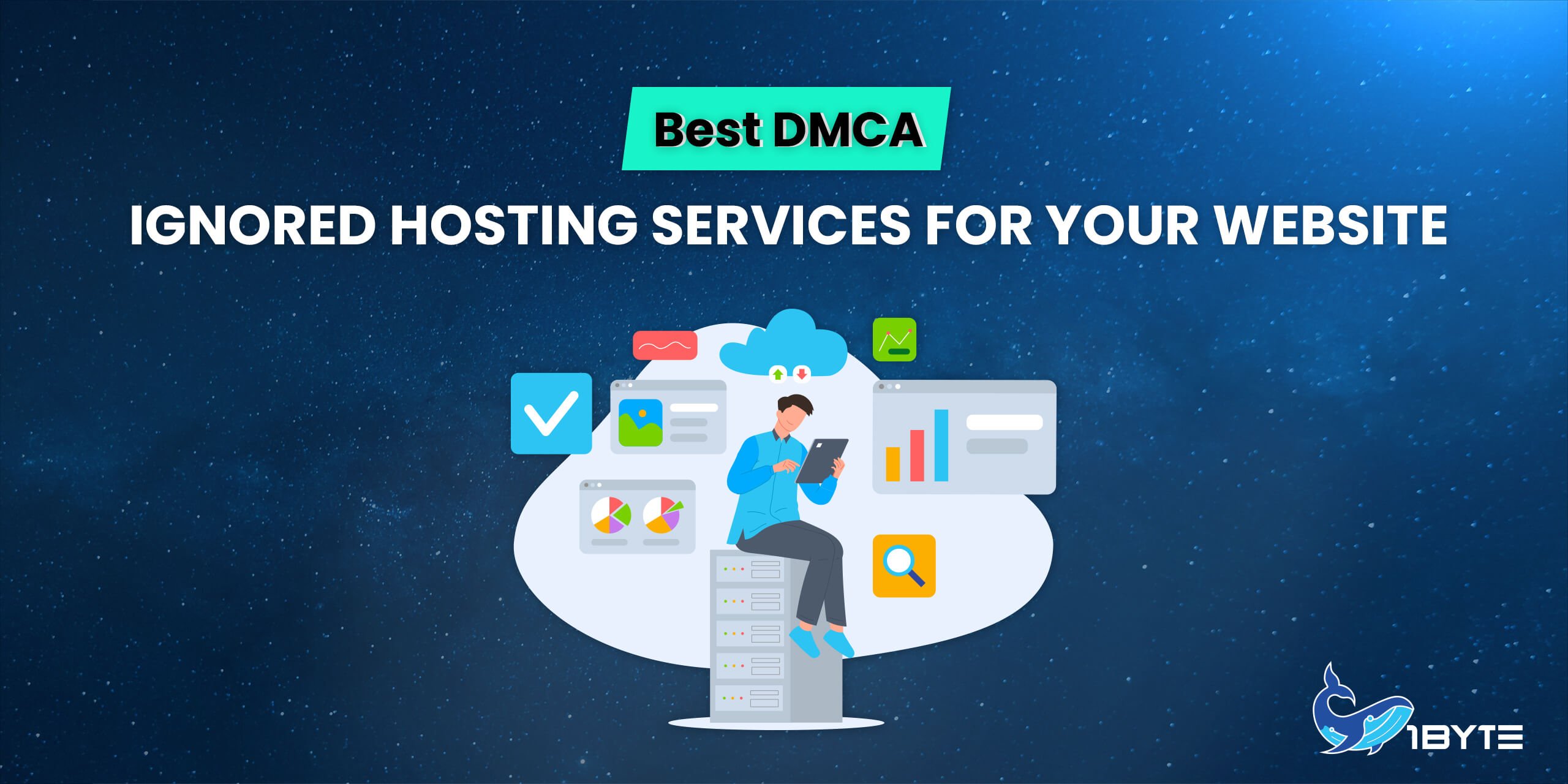 This blog provides details of aspects that should be taken into consideration to determine a good offshore web host and a list of our recommended offshore web hosts. Technically, offshore hosting is when you host a website on servers situated outside of your native country. People often employ this phrase when doing so on purpose to accomplish a certain objective. It's normally done for tax, free speech, security, or privacy reasons. As there are many offshore web hosts available, it is hard to pick out the most suitable one that can meet your demand. Read on for advice and suggestions! 
What to Look For in an Offshore Web Hosting Provider?
Nation
The Netherlands, Russia, or other nearby countries like Bulgaria are some common destinations for offshore web hosting. But Cambodia comes out at the top when it comes to Offshore Web Hosting Providers.
Multi-language support
Let's think about your carrier's multilingual support options. Even seasoned users encounter server-related technical issues from time to time. In this case, it would be best to work with a representative who knows your language and your partner.
Payment Options
You may want to look for a service that offers a variety of payment options, including a bitcoin option.
For example, PayPal can be very cost-effective for international payments.
Privacy
Take your privacy seriously while signing up, as you surely do not expect your personal data to be disclosed without your permission.
The only advice for you is to find a reliable service provider that conforms to the privacy policy strictly. 
Top 9 Best Offshore Hosting Providers
1. 1Byte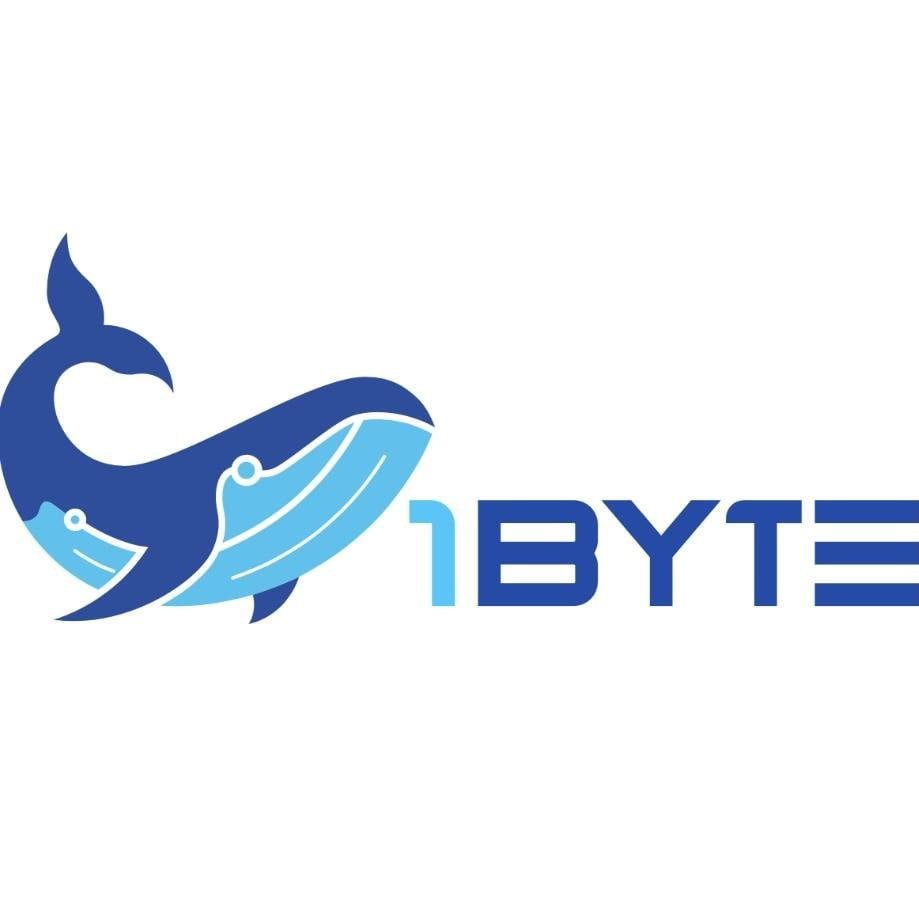 1Byte stands out as the leading web hosting and cloud computing provider in Cambodia, famous for its dedication to providing top-notch service to satisfy every customer.
This Cambodia-based service is a great choice if you are looking for a cloud provider that respects your privacy. There is no requirement to provide personal information when you sign up for Services, such as Shared Storage, Cloud Storage, and Cloud Server.
Such privacy protection keeps the chance of your business's confidential information and data leaking at bay. No company wants its product plans or customer data to be stolen by, let's say, their competitors.
With 1Byte, you can even design your server to act as a cryptocurrency miner, a website for entertainment, or a digital storage library.
In particular, the huge storage and high bandwidth make it possible to create a streaming platform that supports up to 100 concurrent streams! Feel free to build an entertaining platform to stream for hours on end.
Cryptocurrency-wise, cloud mining is becoming mainstream recently, so you can take advantage of the cloud server service at 1Byte to keep up with the trend. This way, you eliminate the need for physical rigs that make electricity bills go off the chart.
Be it a crypto, entertaining, or digital library website, 1Byte got you covered with its bandwidth to accommodate all the large amount of traffic.
Even better, they offer high-quality service and advanced equipment at an affordable price. The starting price of shared hosting, cloud hosting, and cloud servers are $1.45/month, $3.18/month, and $5/month, respectively. As the price goes up, you can enjoy more thorough service.
For domains, it costs you only $5.48 for the first year. $5 for a well-recognized website to promote your brand – what a great deal! Not to mention, on certain holidays, 1Byte often organizes special events with appealing discounts! 
2. Hostinger

Hostinger can combine offshore hosting at extremely reasonable prices but with loads of good service and high A+ performance.
There are 7 server location options available through Hostinger: Netherlands, USA, UK, Lithuania, Brazil, Singapore, and Indonesia – some locations with strict data privacy laws that you can rest assured about personal data disclosure.
Nevertheless, Hostinger promises to bring the best user experience with a user-friendly admin panel and 24/7 support. 
With a consistent and fast response time which is all thanks to a great number of data center locations regardless of package option, Hongstinger's high performance surely will not make you down.
The three levels of hosting options offered by Hostinger are reasonably priced from $2.59 to $3.99 per month. Free SSL certificates, weekly backups, and Cloudflare Protected Name Servers are included in all 3 service packages.
3. HostPapa

HostPapa is one of the top choices for offshore hosting thanks to its wide range of international server locations and a wide range of security features at a very affordable cost.
In particular, HostPapa is the ultimate choice for people who look for budget-friendly and reliable offshore hosting. With an impressive uptime that is up to 99.9%, HostPapa is truly a reliable and high-performance hosting option.
Despite the fact that there are feedbacks that suggest improvement in the response time, 1.19s is still an acceptable response time considering the various great features that HostPapa offers. The two only minus points about HostPapa are the limitation in payment method and slow response time. 
Overall, this should be an ideal hosting option for its security, extra security measures, and choices of location. 
4. SiteGround

SiteGround comes out on top with various offshore hosting features, such as friendly offshore features, multiple server locations, and strong security measures. 
Here's what you can expect from SiteGround as a top pick for offshore hosting:
Many web hosts on different continents, Singapore, Australia, Netherlands, UK, USA, and Singapore, all have servers for SiteGround.
For extra security, automatic daily backups are kept in different data centers. Real-time monitoring systems, custom web application firewalls (WAFs), and AI-powered anti-bot systems are just a few of the many security features available.
SiteGround has the fastest response time on our list for speed. Briefly, they averaged a dizzying 217 milliseconds, a remarkable speed between 175 milliseconds and 267 milliseconds – half of the market average.
They offer up to 99.99% of uptime.
5. YourStable

YouStable makes use of high-end hardware built for high performance and reliability. The cheap offshore hosting service from YouStable comes with a lot of features that you might not find elsewhere for the same price. Yet, the introductory price will change to the usual price when it comes to renewal time.
Cheap SSD hosting, free SSL, a free Cloudflare CDN, and free SEO credits are all included in the beginning package. Only "pro" users are able to receive extra features like SSL certificates, website backups, dedicated IPs, and domain protection.
This provider is mostly preferred for its ignorance of the DMCA, meaning that you will only receive notification in case the criticism occurs without having your services terminated or deleted.
6. AbeloHost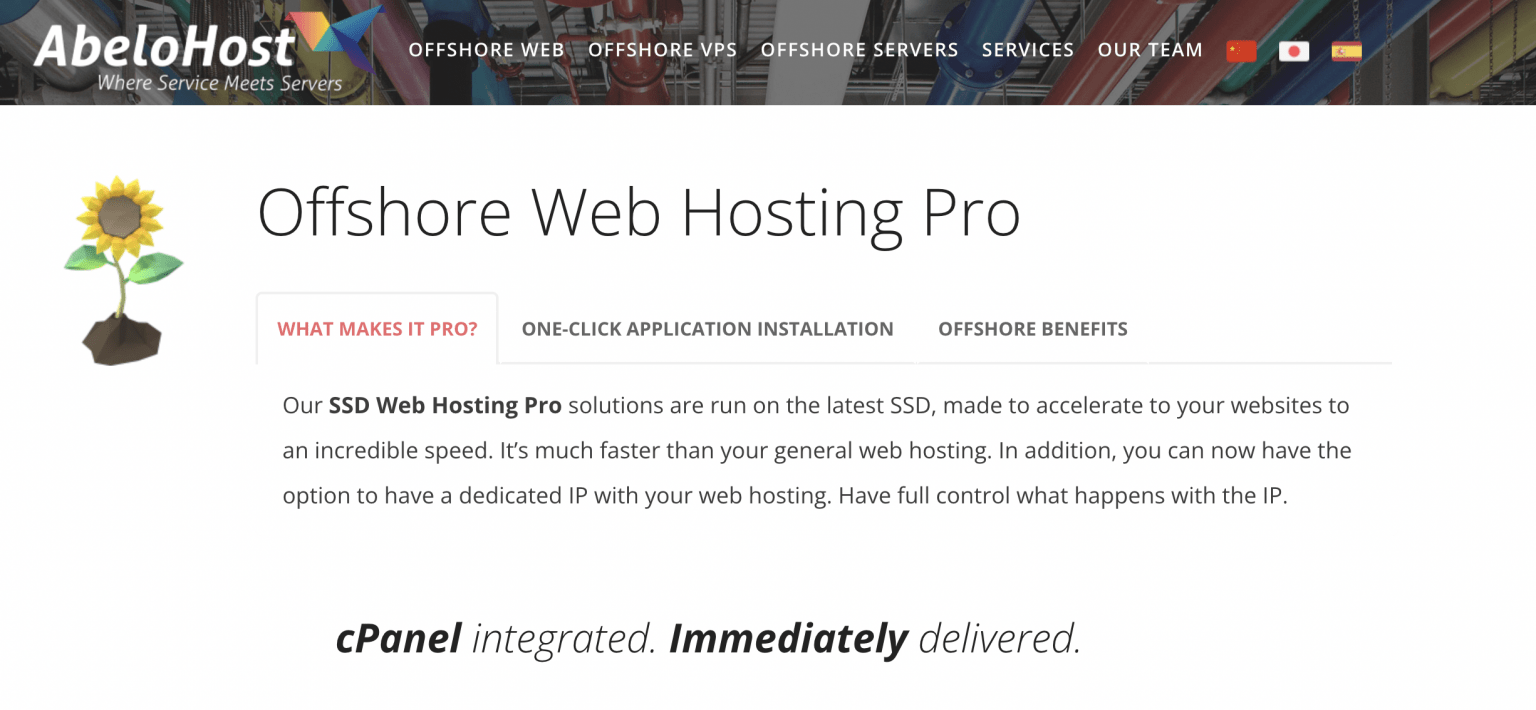 AbeloHost has grown into one of the leading players in the offshore hosting industry with about 10,000 customers, as well as more than 5,000 registered domains.
Along with providing top-notch servers and best-in-class customer support, AbeloHost maintains its dedication to strict data privacy and security procedures. All AbeloHost customers, regardless of country, will be fully protected in terms of data security, data privacy, and content acceptability.
Navigating the site is simple and easy to use and is available in different languages – Spanish, Chinese, Japanese, and English.
Although the site lacks blog content like many of its competitors, it offers a dedicated knowledge base with lessons on a variety of topics, including manual WordPress setup on shared hosting and how to migrate your site without downtime.
AbeloHost offers four different sized and priced shared hosting plans, managed-to-host, four separate offshore VPS hosting plans, and lots of different plans for you to choose from.
7. Koddos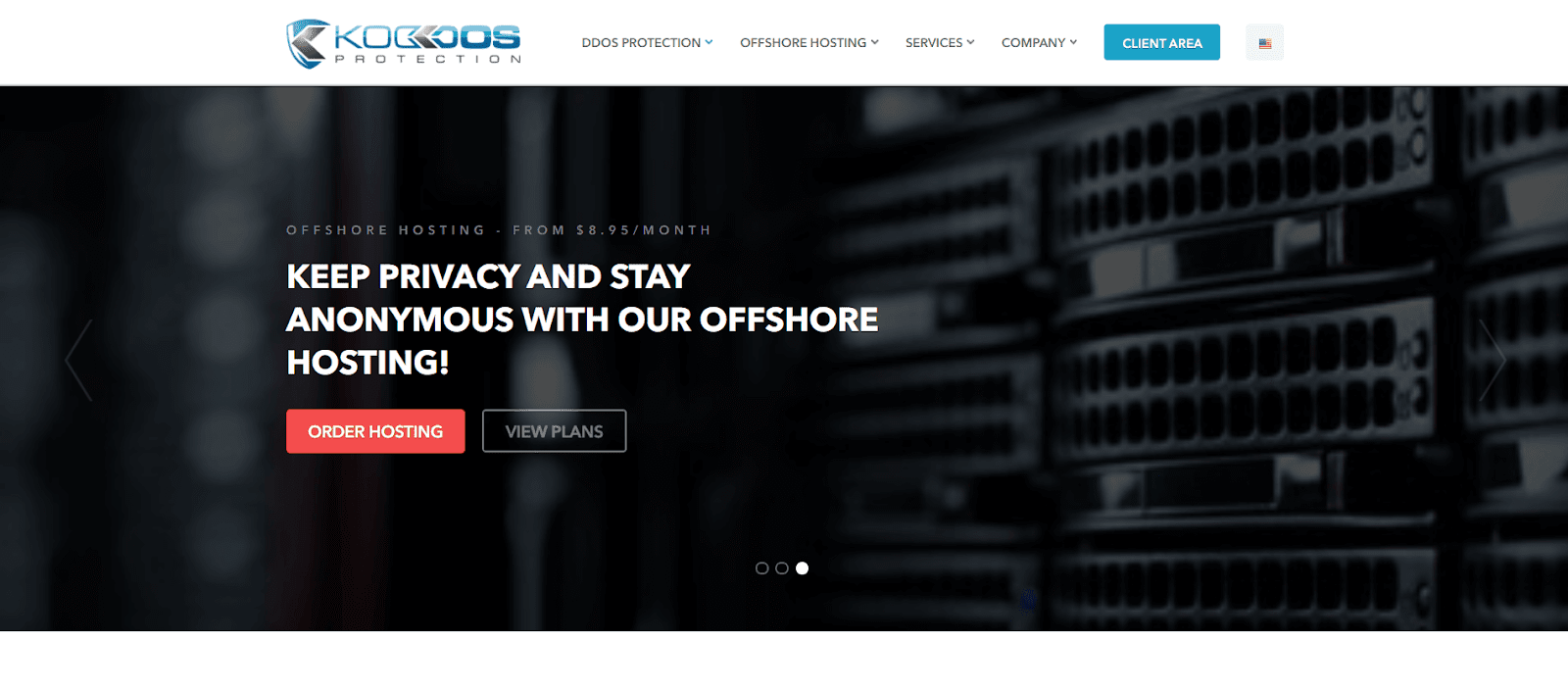 The KODDOS Hosting solution is recommended for businesses that demand high-security data protection. Specifically, KODDOS offers a high-standard anti-distributed denial-of-service defense mechanism with the latest infrastructure and technologies, which secure users from any suspicious cyber activity or DDoS attack.  
You can get real-time anti-spam security to help protect your site from spam attacks of any kind. When a spam or virus attack occurs, the system will quickly alert you and take appropriate precautions to protect the site.
This hosting option is also favored for speedy performance, as you can convert on your sites with 99.99% uptime.
The price is reasonable considering the services and features they offer. You have the option of experiencing the free offshore hosting server and paying monthly, which allows you to stop the service at any time if you are not satisfied with it – this is one of those great features that very few businesses offer.
8. The Onion Host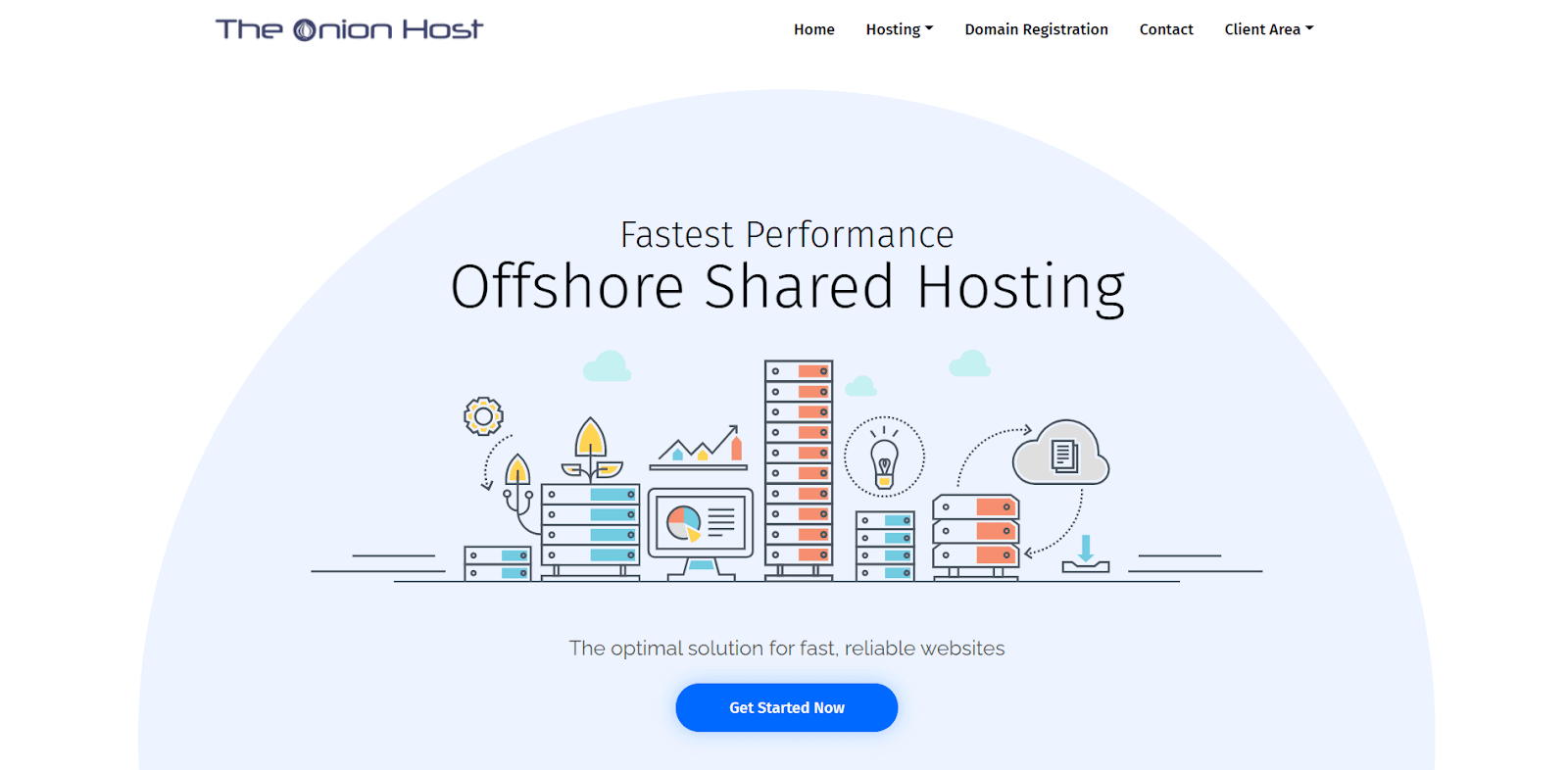 You may not know about Onion Host, but this adaptive provider is capable of generating amazing power at a reasonable cost, all thanks to the Bulgarian Tier 1 data center.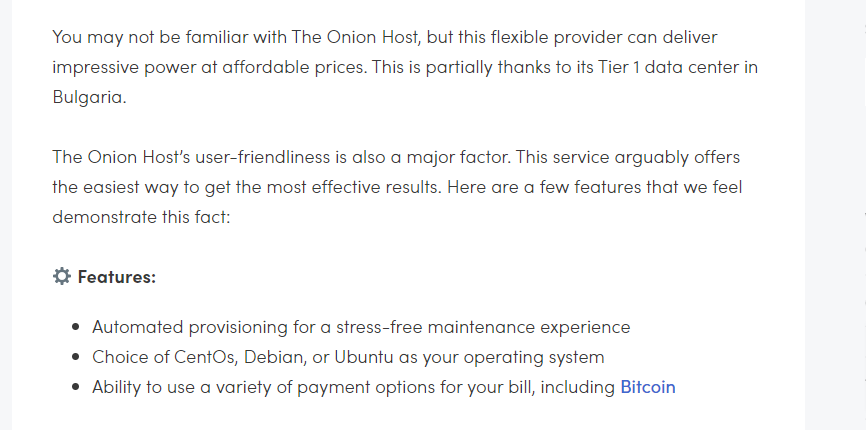 User-friendliness is another important aspect of Onion Host. The goal of this service is to make it as simple as possible to achieve the best results. In our opinion, these characteristics prove this fact: Automated provisioning for stress-free maintenance, choosing between CentOS, Debian, or Ubuntu operating systems, and various payment options.
Especially, you have the final say over the operation of the most important components of offshore web hosting when combined with optional full root access.
Dedicated offshore server solutions start at $70 per month if that's what you choose for your content. Onion Host also offers a 100% money-back guarantee.
Overall, Onion Host might be a wise place to start if you are hesitant to sign up for international web hosting.
9. WebCare360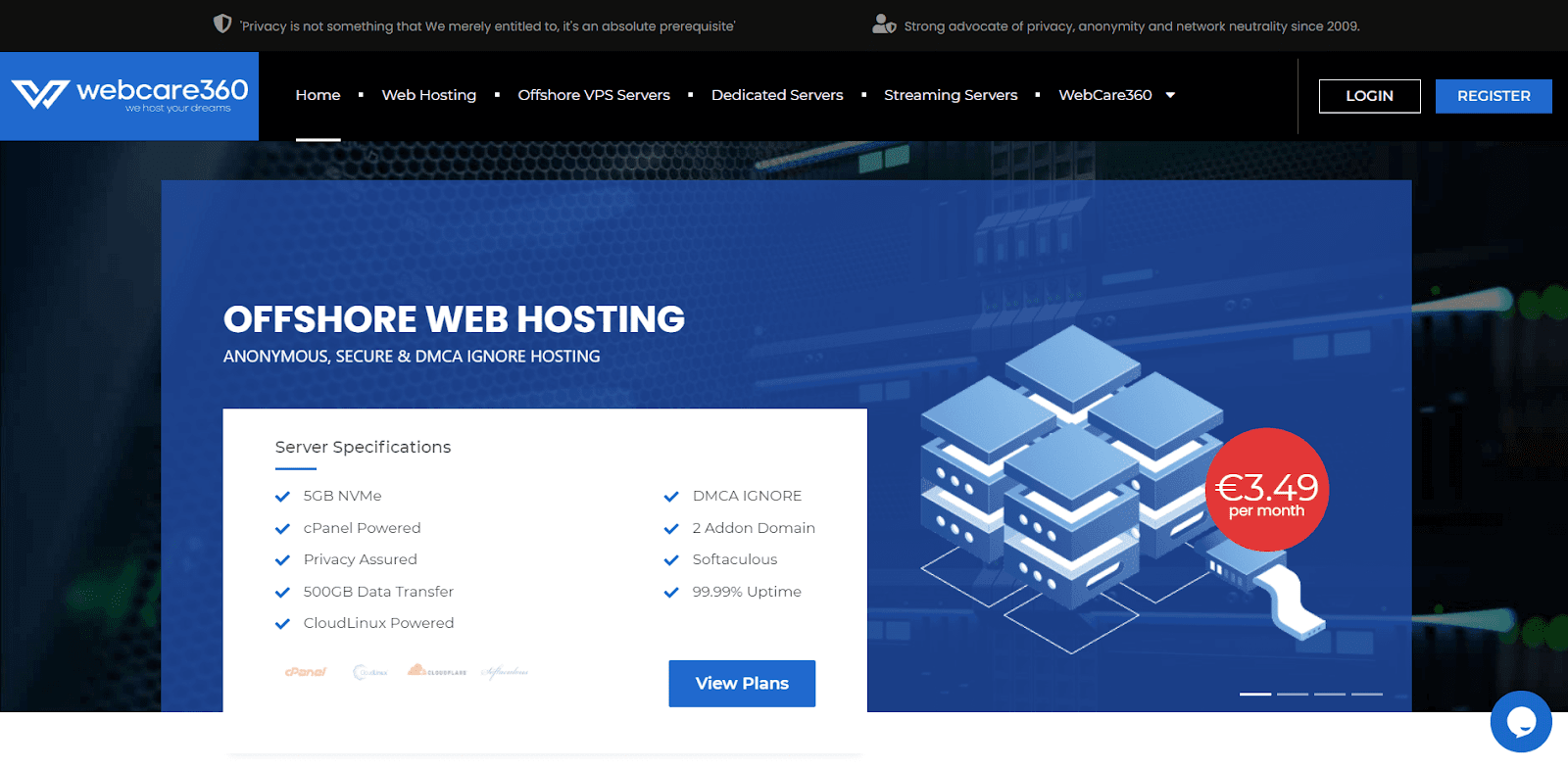 Private and anonymous web hosting is one of the main advantages of offshore hosting, as it only collects a minimal amount of data during the registration process – only your name, email address, phone number, and payment information are required.
WebCare360 does not keep an eye on your website content and guarantees not to sell your data. In addition, it has an integrated SEO Attracta Tool to protect both your privacy and support traffic.
The price range for shared hosting is $3.99 to $99.99 per month. All plans come with strong, round-the-clock support and enhanced security precautions, while features like storage may vary.
Conclusion
It can be challenging to pick the best offshore web hosts, but you can always turn to the one-stop provider – 1Byte.
With ultimate anonymity, world-class service with high bandwidth, competitive price, and dedicated customer service, 1Byte ticks all these boxes. It is worth every single cent!