1Byte's Year in Review: Growth, Innovation, Success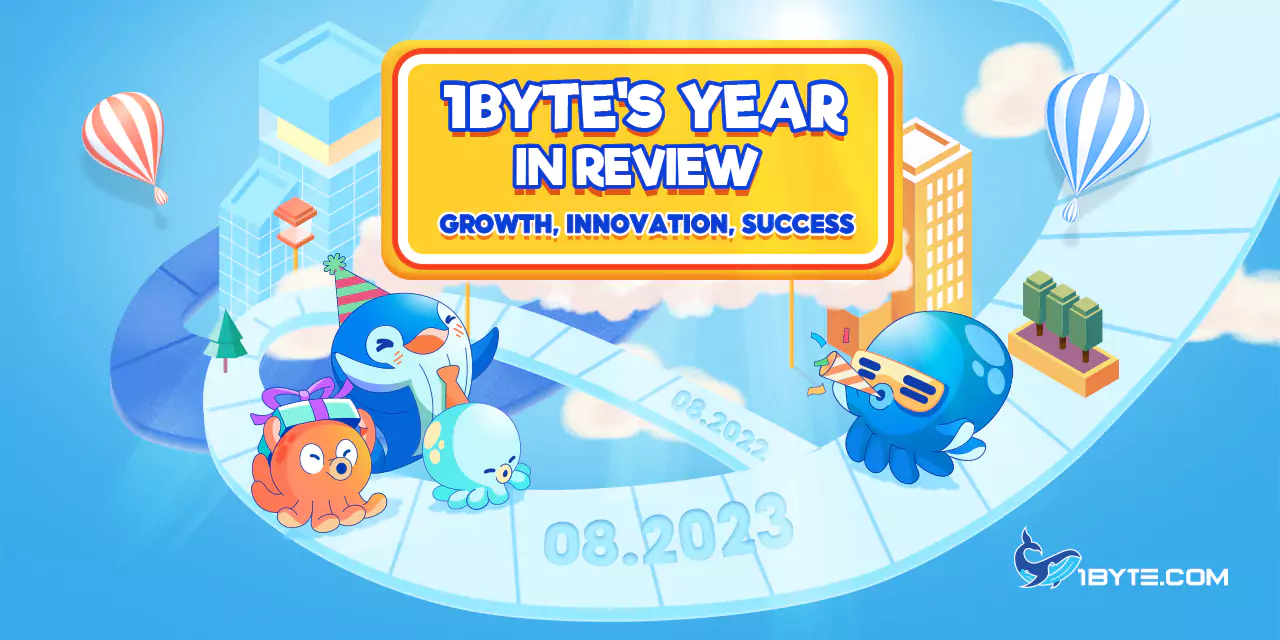 At 1Byte, as we celebrate our 1st birthday, we're excited to reflect upon a remarkable year filled with progress, innovation, and remarkable achievements.
1Byte, the AWS Partner of the Year
In the realm of rapid growth and remarkable achievements, 1Byte has shone as Cambodia's top cloud service provider. Notably, our collaboration with AWS has propelled us to exceptional heights, earning us the esteemed title of AWS Select Tier Services Partner in under a year.
Since our founding in 2022, our journey has been a testament to our determination and capabilities. In less than three months, we proudly earned the distinction of being an AWS Solution Provider. This milestone enabled us to resell and deliver AWS products, catalyzing digital transformation for numerous Cambodian businesses.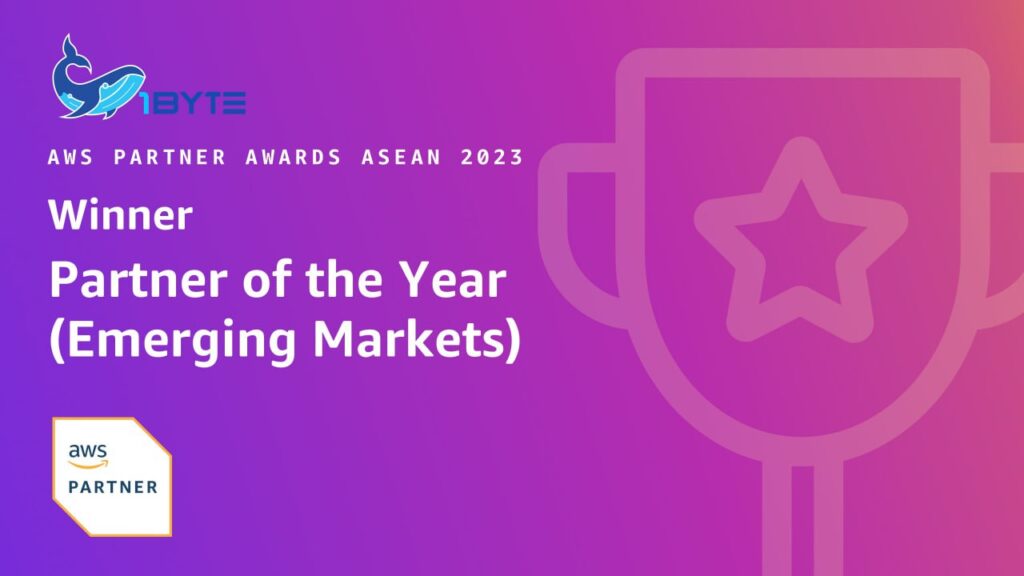 Our investment in multiple channels to advocate for cloud transformation within Cambodia reflects our unyielding commitment. We've also collaborated closely with fellow local AWS Services Partners, reinforcing our dedication to advancing cloud capabilities across the nation.
Against the backdrop of Singapore in May 2023, more than 30 organizations convened for this prestigious event. The occasion not only honored our achievements but also celebrated the collective success of the AWS Partner Network throughout the ASEAN region.
Exciting Event Activations
At 1Byte, our commitment to engaging with our customers goes beyond the digital realm. Throughout the year, we orchestrated captivating event activations that brought us face-to-face with our valued clientele.
In July and August, we were present at ÆON Mall Sen Sok and ÆON Mall Mean Chey, where we transformed the mundane into moments of excitement. The dates were set, and the locations were chosen to ensure convenience for our customers. During these events, we took pride in offering exclusive rewards that ranged from stylish T-shirts to protective helmets and valuable E-Codes worth up to 50 USD.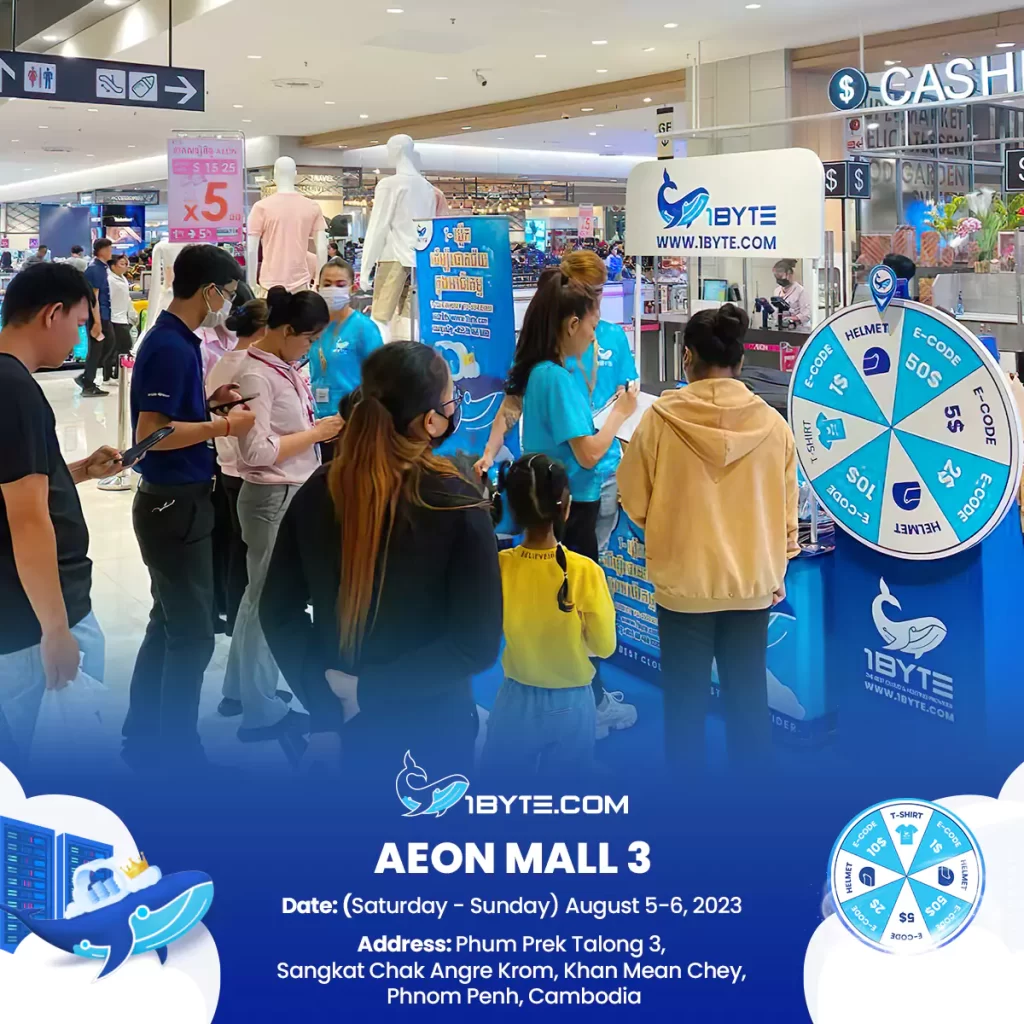 But our engagement didn't stop there. In November 2022, we also collaborated with Makro Supermarket to deliver the same excitement! Each visitor was gifted a free spin, an opportunity to win enticing prizes. The process was simple: upon registering an account and providing basic information, the customers were granted their chance to spin the wheel of fortune.
To ensure fairness and transparency, we meticulously compiled a list of prizes based on the details shared by the participants. Those who triumphed were promptly rewarded within 24 hours, as their prizes found their way to their hands or directly into their 1byte.com wallet.
The Much-Anticipated Affiliate Program
Embracing growth and innovation, 1Byte proudly introduced its highly anticipated Affiliate Program in 2023, bringing our community closer and rewarding your trust in our services.
With simplicity at its core, the program offers you $5 in promo credits for every successful referral you make. Your commissions remain valid for a generous period of 1 year, giving you ample time to reap the benefits.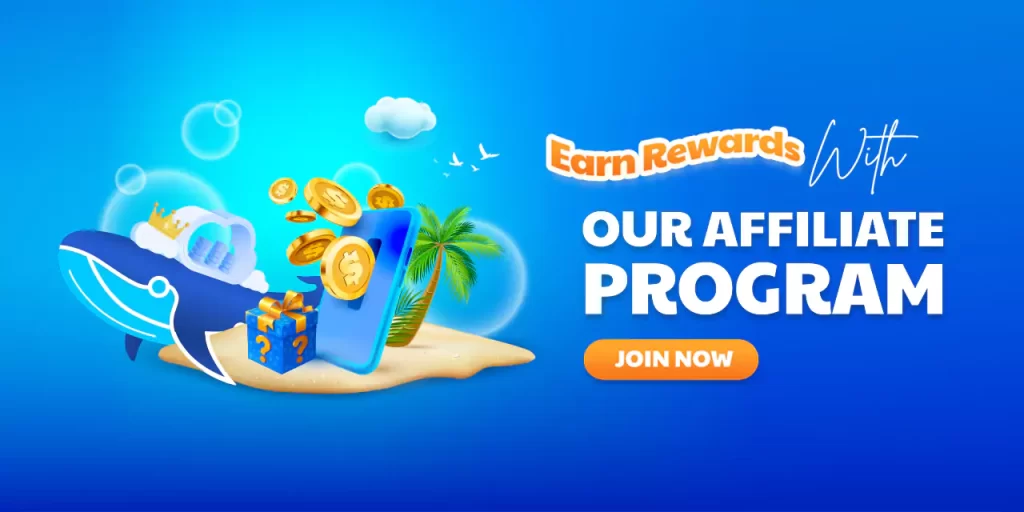 The process is straightforward. Once you refer a friend to us, they need to spend a minimum of $25 on 1Byte's services within 90 days. This action triggers your well-deserved commission. And the best part? You'll receive it as $5 in promo credits, tailor-made for future service purchases exclusively on 1Byte.
We value the relationships you build, and that's why our program is designed to reward you and only you. Your efforts will be acknowledged with this exclusive commission.
It's simple – the more you share, the more you earn. Visit this article for more details.
1Byte at Cambodia Tech Expo 2022
Amidst a year of growth and innovation, 1Byte proudly marked its presence at the grand Cambodia Tech Expo 2022. From November 11th to 13th, we set our stage at the Diamond Island Convention and Exhibition Center, Koh Pich, Phnom Penh, booth E40. The event offered an exceptional opportunity to connect with us and explore the vast realm of web services we bring to the table.
Joining forces with CTX 2022, Cambodia's largest Tech Expo and Conferences, our participation resonated with the spirit of innovation that defines our journey. This event, which coincided with the ASEAN Summit 2022, brought together an array of tech enthusiasts, keynote speakers, presenters, and exhibitors.
With an impressive lineup of 35 Keynotes and Presentations and the insights of 124 Speakers, the expo was a melting pot of ideas and possibilities. The gathering featured an impressive showcase of 125 Exhibitors, us included, embracing the diverse facets of the tech landscape.
Marking a pivotal moment in our year, Cambodia Tech Expo 2022 was a vivid reminder of our growth, innovation, and the path to success that lies ahead.
Our Presence at Phnom Penh
In the vibrant heart of Phnom Penh, 1Byte made a powerful statement of its commitment to Cambodia's growth and well-being. As a renowned cloud computing provider, we unveiled a series of impactful initiatives that echoed our dedication to the community.
On June 9, 2023, in collaboration with the esteemed National University of Management, we orchestrated a charity event that radiated compassion. Our efforts converged at the Reay Pai Primary and Secondary School in Ray Pai Commune, Kang Meas District, Kampong Cham Province. At this heartwarming ceremony, we extended a crucial safety measure – 200 helmets – to the dedicated teachers of the school. This gesture was a testament to our pledge to support those who shape young minds. We also extended this safety measure to the local Police Department and the Ray Pai Commune Hall working crew, ensuring their well-being as they serve the community.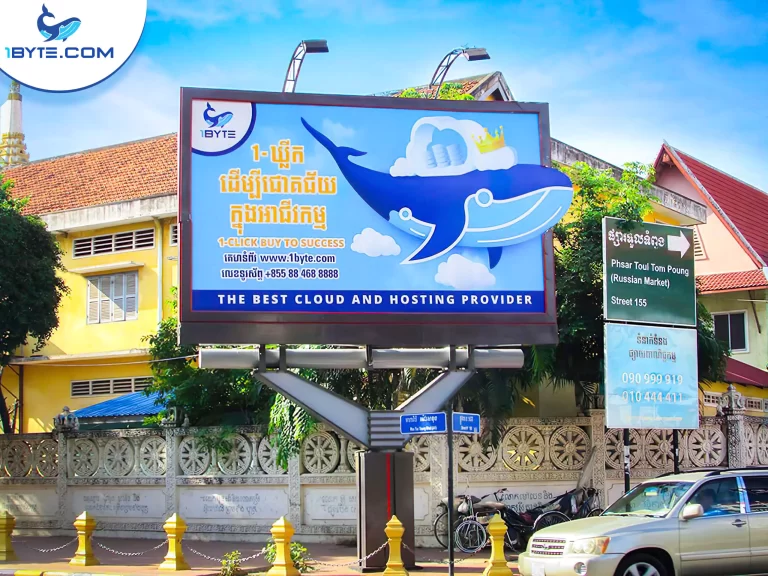 Our footprint in Phnom Penh didn't stop there. Throughout the year, we unveiled striking billboards that captured attention across the cityscape. With these bold displays, we proudly showcased our role as Cambodia's premier cloud computing company. Each billboard carried the essence of our commitment – to provide innovative cloud solutions that empower businesses with state-of-the-art technology.
This year, our presence in Phnom Penh spoke volumes about our journey of growth, innovation, and success. From lending a helping hand to those who make a difference to asserting our role as a trusted technology partner, every step was a testament to our commitment to Cambodia's progress.
More to Come…
As we joyfully mark our 1st birthday, 1Byte is delighted to unveil a realm of surprises that go beyond the festivities. In our journey of growth, innovation, and success, we're excited to bring even more value to our cherished customers.
Amidst the celebrations, an array of discounts and promotions eagerly awaits you. These offerings are a token of our gratitude for your continuous support, and a way to make your experience with us even more remarkable.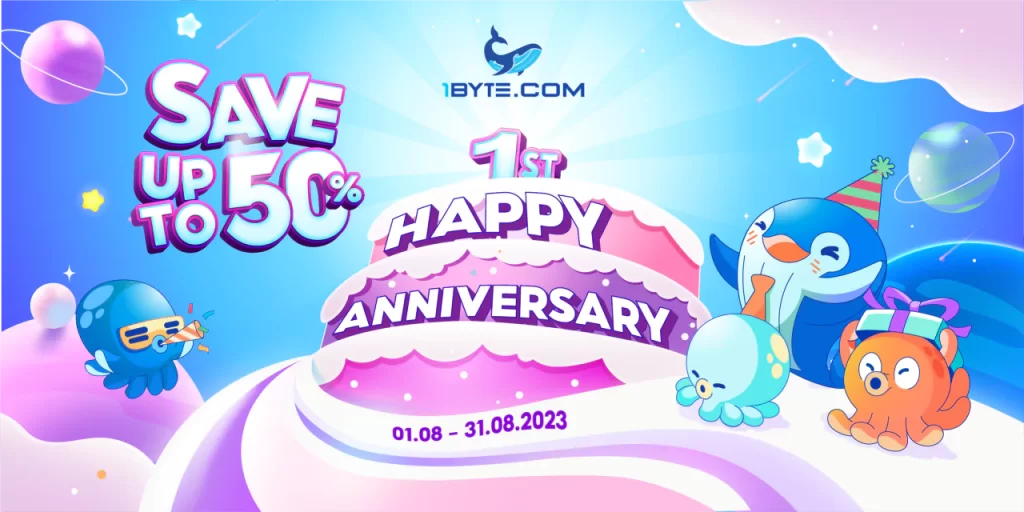 But that's not all – we're gearing up for an upcoming Loyalty Program that will take your engagement with 1Byte to new heights. This program is a testament to our commitment to building lasting relationships with our customers. It's our way of saying 'thank you' for being part of our journey.
So, stay tuned as we reveal the exciting details of what's to come. With each step forward, we're enhancing the way we serve you, fostering innovation, and embracing success together. Your trust in us has brought us this far, and we can't wait to show you what's next!