Introducing 1Byte's WordPress Hosting: Your Website's Best Friend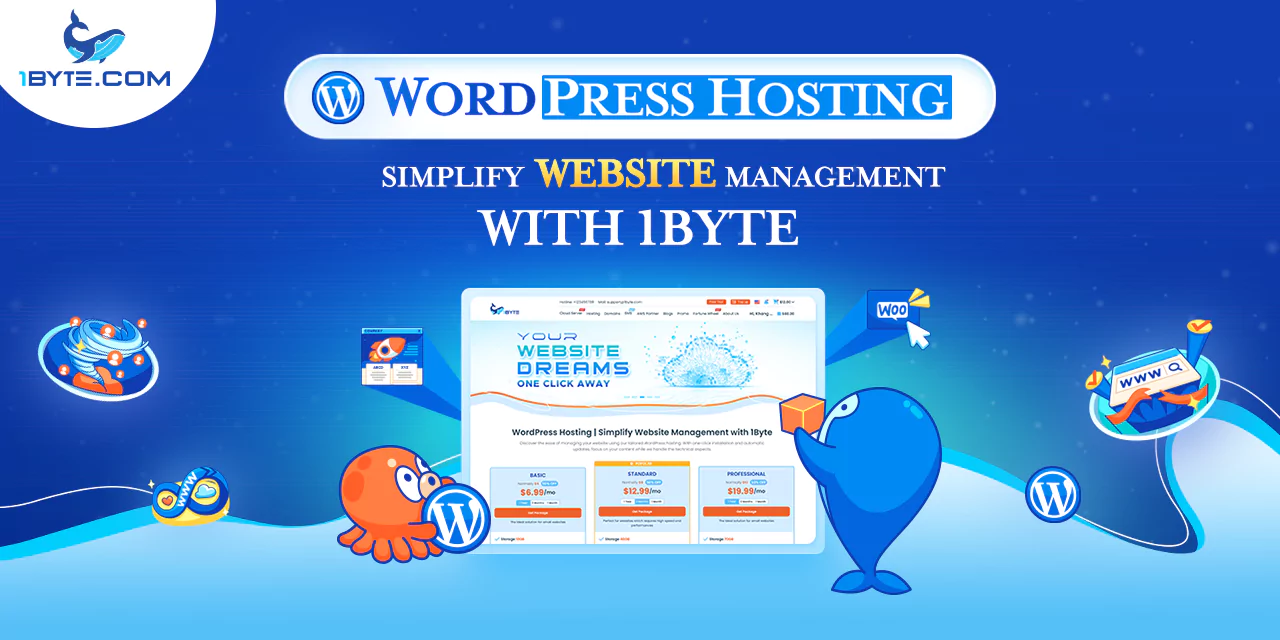 In today's digital age, everyone needs a strong online presence. WordPress, the platform behind 40% of websites, is the go-to choice. But to make the most of it, you need top-notch hosting. 1Byte's WordPress Hosting is here to deliver just that.
What is 1Byte's WordPress Hosting?
1Byte's WordPress Hosting is specialized web hosting tailored for WordPress websites. With features like one-click installation, automatic updates, enhanced security, and expert WordPress support, your website is in safe hands.
This isn't just any WordPress Hosting; it's 1ByteWP, where your WordPress website is managed by our optimized cloud technology. It's like a "set-and-forget" experience, allowing your site to grow without interruptions.
Imagine your WordPress website live within minutes, no hassle of navigating complex interfaces. We handle everything in a single click with an easy, intuitive config and admin page. 1Byte WordPress hosting plans save you time and money.
To ensure your website's success, with top-tier performance and unbeatable convenience, 1Byte's WordPress Hosting offers three plans designed to meet various needs:
Basic ($6.99/month)
Standard ($12.99/month)
Premium ($19.99/month)
Each plan is packed with features, making your WordPress journey effortless. Once you've made your purchase, simply go here to check out the configurations available to your new WordPress website, from Backups, Security to FTP Access.
The Benefits You Get From 1Byte's WordPress Hosting
With 1ByteWP, we bring you an array of benefits that make your online journey smooth:
One WordPress Site: You have the power to host one WordPress site, simplifying your experience.
Quick Setup: Your site goes live in under 90 seconds, so you can start sharing your content swiftly.
Cloud Hosting: Enjoy the reliability of 1Byte Cloud hosting, ensuring your website is always accessible.
Easy Growth: As your visitor count surges, you can effortlessly expand your resources to accommodate them.
Reliable Uptime: Your website stays online an impressive 99.9% of the time, guaranteeing uninterrupted access.
Super Speed: Experience the lightning-fast speed, three times faster than standard hosting, for rapid loading times.
Safety First: Security is our top priority, protecting your site and data from threats.
Effortless Backups: With one click, you can back up and restore your site, ensuring your content is secure.
Full Control: Manage your files and databases effortlessly, giving you complete authority.
User-Friendly Dashboard: Navigate your WordPress site easily with our simple dashboard.
1Byte's WordPress Hosting equips you with all the tools and advantages needed for a successful online presence.
Special Features
1Byte's WordPress Hosting offers a range of special features designed to enhance your website experience:
Use Your Domain: Seamlessly connect any domain to your website through the user-friendly 1ByteWP dashboard.
Easy Backups: Safeguard your website's data with effortless one-click backup and restore functionality.
Free PositiveSSL: Elevate your website's trustworthiness with a complimentary PositiveSSL certificate (available with Standard and Premium plans).
Single Dashboard: Simplify management by handling all your WordPress sites from one centralized dashboard.
FTP Access: Securely access and share files with ease, ensuring your data remains protected.
Maintenance Mode: Prepare your site for its grand debut with the convenient maintenance mode option.
1Byte's WordPress Hosting delivers not only top-notch performance but also a suite of features that simplify your WordPress journey and boost your site's credibility.
Amazing Customizations 
Our service is the ideal companion for your WordPress website, providing remarkable customizations that empower your online presence:
Freedom to Build: With WordPress, you have the creative freedom to bring any idea to life. It offers an intuitive interface for writing, editing, and publishing content effortlessly.
Customize Themes: Tailor your website to perfection by choosing from a wide array of free WordPress themes, allowing you to express your unique style.
Powerful Plugins: Supercharge your website's functionality with a range of free, potent plugins, expanding its capabilities to meet your specific needs.
1Byte WordPress Hosting is your gateway to a world of customization possibilities, ensuring that your website stands out and excels in both form and function.
1Byte's WordPress Hosting vs. Shared Hosting: A Clear Distinction
When it comes to hosting your website, understanding the differences between 1Byte's WordPress Hosting and Shared Hosting is crucial. Let's delve into what makes WordPress Hosting the superior choice:
Purpose-Crafted: WordPress Hosting is tailor-made for WordPress websites, offering specialized support and optimization. In contrast, Shared Hosting is a more generic hosting service designed to accommodate a wide range of website types.
Performance Powerhouse: WordPress Hosting takes the lead in the performance race. It's faster and more dependable for WordPress sites due to its finely tuned environment. This optimization translates into quicker page loading times and overall enhanced performance. Shared Hosting, on the other hand, may lag behind in speed and reliability because of its shared resource structure.
In summary, 1Byte's WordPress Hosting outshines Shared Hosting by being purpose-built for WordPress and delivering superior performance. When you choose 1Byte's WordPress Hosting, you're opting for a hosting solution that's finely tuned to meet the unique demands of WordPress websites, ensuring a faster, more reliable, and efficient online presence.