Introducing 1Byte's Loyalty Program: Climb the Tiers, Claim the Perks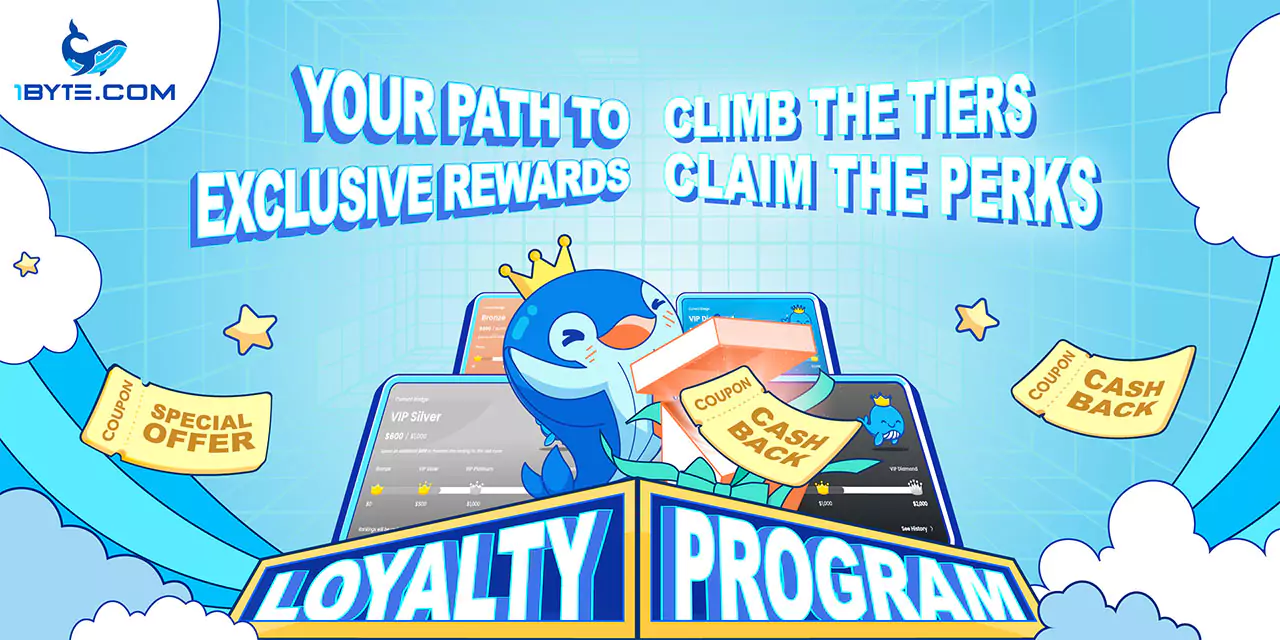 In the rapidly evolving world of cloud computing and web hosting, 1Byte stands out as Cambodia's top service provider, setting a new standard for customer satisfaction and technological excellence. Committed to going above and beyond for our valued customers, we are proud to introduce our Exclusive Loyalty Program, designed to reward your loyalty and spending in a way that truly sets us apart.
Introducing 1Byte's Exclusive Loyalty Program
At the core of 1Byte's ethos is the belief that customer satisfaction and comfort are the cornerstones of its success. The Loyalty Program stands as a testament to this commitment, offering a range of benefits and rewards structured to recognize and appreciate the loyalty and spending of its patrons.
Our Loyalty Program consists of four distinctive membership levels, each offering a unique set of benefits and rewards. These levels are:
Bronze
VIP Silver – Achieved with a $500 spending threshold, offering a 3% cashback.
VIP Platinum – Attained with a $1000 spending threshold, providing a 5% cashback.
VIP Diamond – Reserved for those who reach a $2000 spending threshold, granting an impressive 8% cashback.
Climbing the Membership Ladder
So, how does the program work?
Register or Login: It all begins with creating an account or logging in if you already have one.
Get Our Services: Purchase our eligible services, which include Domain, Cloud Server, Cloud Hosting, Shared Hosting, WP Hosting, SMS, and AWS.
Earn Rewards: As you utilize our services, you'll automatically become a part of our Loyalty Program. Depending on your spending and loyalty, you'll be placed into one of the four tiers, unlocking unique benefits.
If you want to move up to a membership level, just meet the spending threshold for that level. For example, if you spend $500, you'll be upgraded to VIP Silver.
Automatic Upgrades and Downgrades
If, for any reason, you don't meet at least 70% of the spending threshold for your current level by the end of the year (December 31st), you will be downgraded to the appropriate lower level based on your spending. However, we understand that life can get busy, so we're here to help. You will receive automatic reminders – the first one three months before the downgrade, the second one a month before, and the final reminder one week before.
Commitment to Transparency and Communication
We value your trust, and that's why we commit to clear communication. If any changes to the Loyalty Program occur, we will inform you at least one month in advance. Your experience and benefits will always be our top priority.
Frequently Asked Questions
Is my previous spending counted towards the program?
Please note that only spending made after the program's initiation will be counted, so past expenditures won't be eligible for rewards.
Cashback is awarded in promo credits which can only be used for future service purchases on 1Byte. If you have any additional questions or need further assistance, please don't hesitate to contact our customer support team.
Join 1Byte's Loyalty Program Today
At 1Byte, we believe in rewarding your loyalty and supporting your growth. Our Exclusive Loyalty Program is just one more way we're dedicated to making your experience with us exceptional.
For any questions or assistance, check our dedicated Loyalty Program page. Additionally, our customer support team is always ready to help. Join 1Byte's Exclusive Loyalty Program today and start enjoying the benefits of loyalty and spending rewards like never before. Your success is our success, and we're here to take you further on your journey.