10 Free WordPress Themes to Transform Your Website's Aesthetics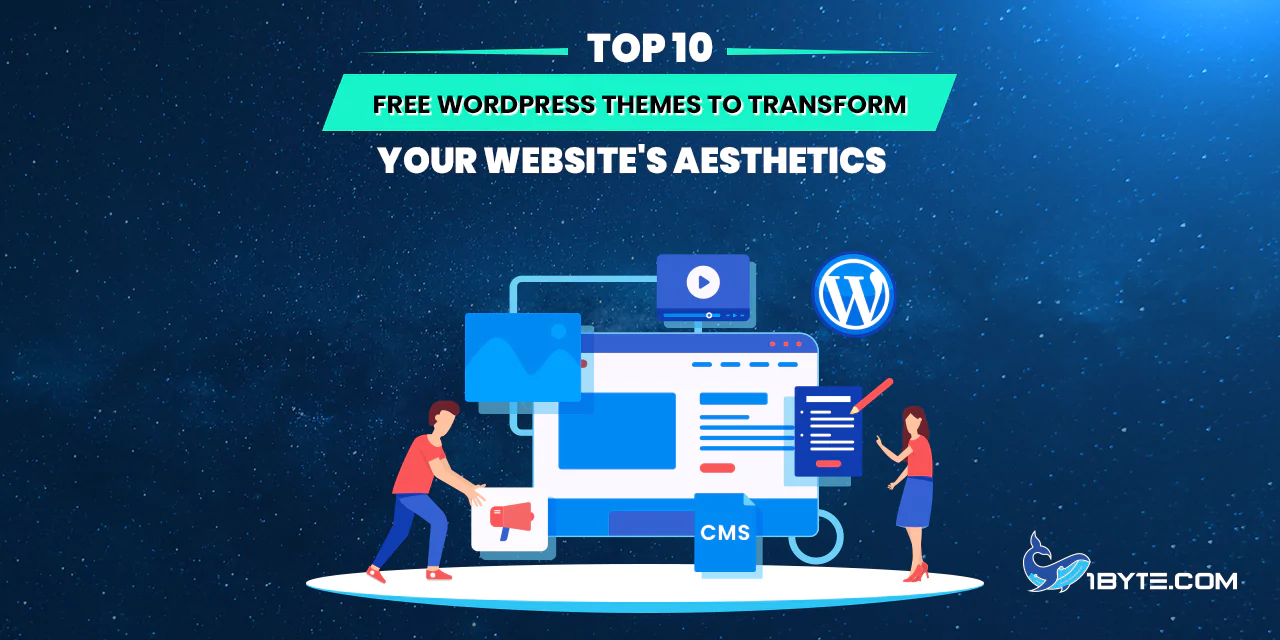 In the ever-evolving digital landscape, the visual appeal of your website plays a pivotal role in engaging your audience. One of the best ways to enhance your website's aesthetics without breaking the bank is by exploring the world of free WordPress themes. These versatile and cost-effective themes can breathe new life into your online presence. In this article, we'll dive into the realm of free WordPress themes and introduce you to the top 10 options that can transform your website's look and feel. Whether you're a blogger, a small business owner, or an aspiring e-commerce entrepreneur, these themes have something to offer for everyone. Let's embark on a journey to discover the perfect theme to elevate your website's aesthetics.
Advantages of Using Free WordPress Themes
Embracing free WordPress themes can be a game-changer for your website. These themes offer numerous advantages, providing an appealing design without the price tag. Let's explore the benefits in detail.
The benefits of choosing free themes
Opting for free WordPress themes offers several compelling advantages:
Cost-Efficiency: Free themes eliminate the need for substantial upfront investments in website design. This is particularly beneficial for startups and small businesses with limited budgets.
Ease of Access: Free themes are readily available within the WordPress theme repository. You can easily browse, preview, and install them directly from your WordPress dashboard.
Wide Variety: The repository boasts an extensive collection of free themes, catering to diverse niches and design preferences. Whether you need a blog, portfolio, or business website, there's likely a free theme that fits.
Quick Setup: Free themes often come with simplified customization options, making it easier for beginners to set up their websites without extensive coding knowledge.
Community Support: Popular free themes have active user communities and forums where you can seek help, troubleshoot issues, and access tutorials. This support network can be invaluable for newcomers.
Regular Updates: Many developers maintain and update their free themes to ensure compatibility with the latest WordPress versions and security patches.
SEO-Friendly: Well-coded free themes can be optimized for search engines, contributing to better visibility in search results.
Customization Flexibility: While free themes offer predefined layouts, they are often customizable. You can personalize colors, fonts, and layouts to align with your brand's aesthetics.
Mobile Responsiveness: In an era where mobile users are prevalent, many free themes are designed to be mobile-responsive, ensuring your site looks good on various devices.
Test-Drive: Trying out a free theme is low-risk. If it doesn't meet your needs, you can easily switch to another without significant losses.
These advantages make free WordPress themes an attractive choice for those seeking an economical and efficient way to enhance their website's aesthetics.
Cost-effectiveness and versatility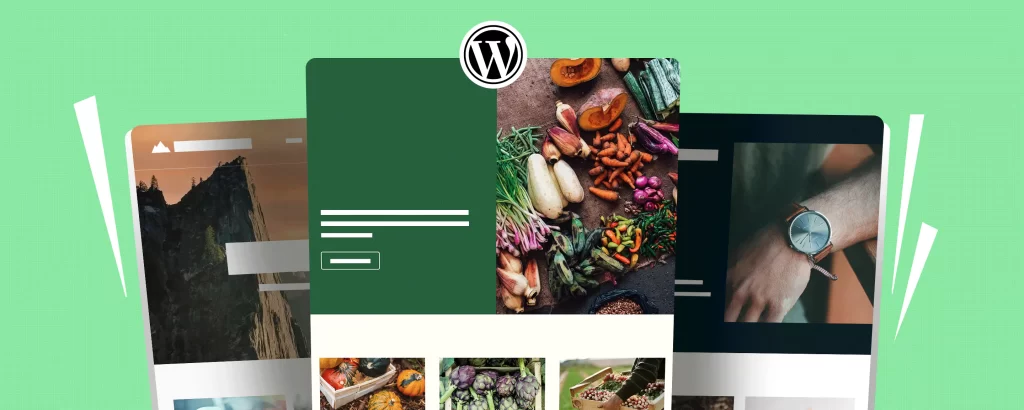 When it comes to the advantages of free WordPress themes, cost-effectiveness and versatility stand out prominently:
Affordable Solutions: Free WordPress themes eliminate the need for significant financial investments in website design. This makes them an excellent choice for individuals, startups, and small businesses with limited budgets.
Multiple Options: Within the vast repository of free themes, you'll find a multitude of options, catering to various industries, styles, and functionalities. Whether you run a blog, an e-commerce site, or a personal portfolio, there's likely a free theme that suits your needs.
Easy Accessibility: Free themes are readily available within the WordPress dashboard. You can search, preview, and install them with just a few clicks. This accessibility saves time and streamlines the setup process.
Quick Customization: Many free themes come with user-friendly customization options, allowing you to personalize your website's look and feel. You can adjust colors, fonts, layouts, and more without the need for extensive coding knowledge.
Responsive Design: In today's mobile-driven world, responsive design is crucial. Many free themes are built to be mobile-friendly, ensuring that your website looks and functions well on smartphones and tablets.
Regular Updates: Developers often maintain free themes, releasing updates to enhance compatibility with the latest WordPress versions and address security concerns. This ongoing support helps keep your website secure and up-to-date.
Active User Communities: Popular free themes often have dedicated user communities and forums. Here, you can seek assistance, find answers to common questions, and access tutorials to make the most of your chosen theme.
SEO Benefits: Well-constructed free themes can be optimized for search engines, contributing to better search rankings and online visibility.
Low Risk: Trying out a free theme involves minimal risk. If you find that it doesn't meet your requirements, you can easily switch to another free theme or explore premium options without significant financial losses.
In essence, the cost-effectiveness and versatility of free WordPress themes make them an attractive choice for those aiming to enhance their website's aesthetics while staying within budget.
Recommended reading: A Guide to Effective Cloud Orchestration
Top 10 Free WordPress Themes
These carefully curated themes are not only visually stunning but also highly functional. They offer a range of customization options, responsive designs, and user-friendly features, all without costing you a dime. Whether you're running a blog, an online store, or a portfolio website, these free WordPress themes provide the perfect foundation for transforming your site's look and feel. Let's delve into the world of these impressive themes and discover how they can enhance your online presence.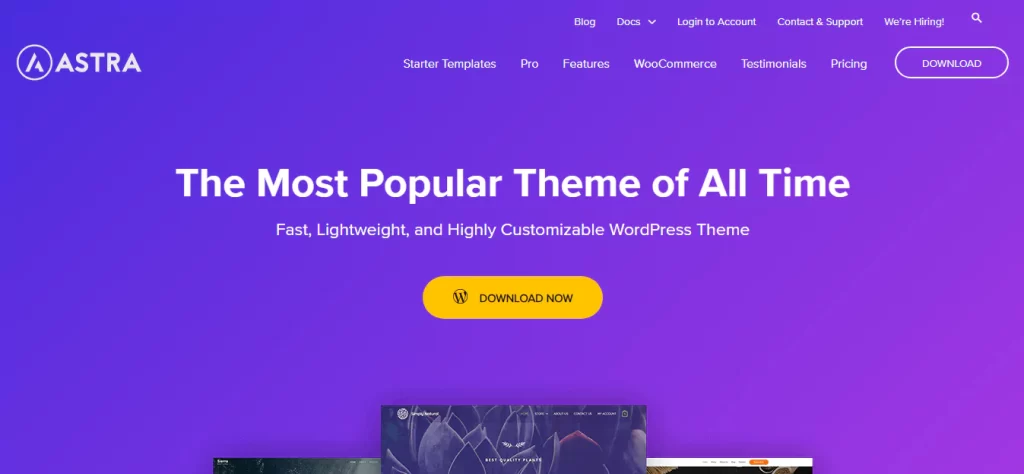 Astra, a top contender among free WordPress themes, offers a lightweight and versatile solution for various website needs. Whether you're crafting a blog, showcasing your personal portfolio, establishing a business site, or running a WooCommerce store, Astra has you covered.
What sets Astra apart is its remarkable speed, with a frontend footprint of less than 50KB. This translates to blazing-fast loading times, ensuring an exceptional user experience for your site visitors. Furthermore, Astra integrates Schema.org code and is Native AMP ready, making it highly appealing to search engines and improving your site's visibility.
Astra's compatibility with popular page builders like Elementor, Beaver Builder, Visual Composer, SiteOrigin, and Divi is another notable feature. It provides special templates and features that seamlessly integrate with these builders, granting you the creative freedom to design your website exactly as you envision it. Whether you're a seasoned developer or a novice, Astra empowers you to transform your website's aesthetics effortlessly.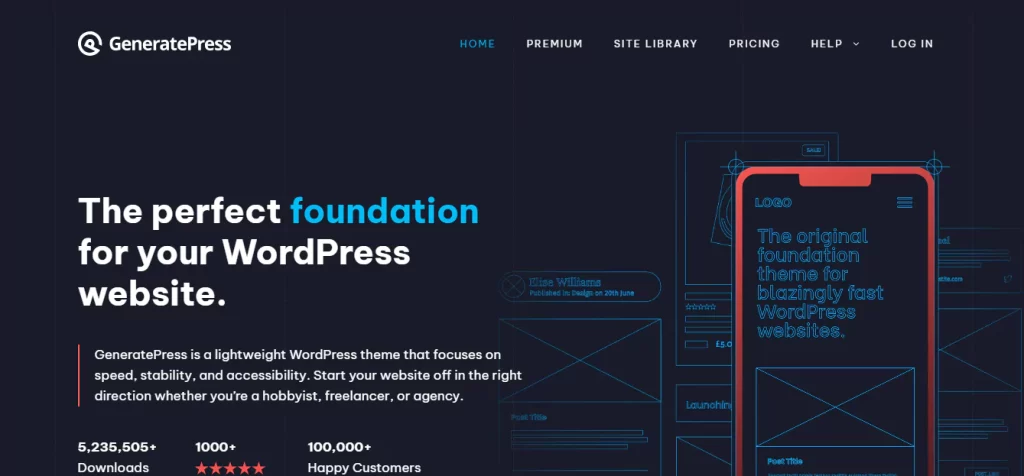 GeneratePress stands out as a free WordPress theme dedicated to delivering speed, stability, and accessibility. Its design predates the Astra theme, establishing it as a trusted and enduring choice for website owners.
What sets GeneratePress apart is its exceptional lightweight nature. With an impressively small install size of fewer than 10 KB (Gzipped), it ensures your website loads swiftly, providing an optimal user experience. This focus on speed not only benefits your visitors but also positively impacts your site's SEO performance.
GeneratePress doesn't just prioritize performance—it also offers pre-made page templates for effortless customization. This feature simplifies the process of tailoring your website to your specific needs and design preferences. Whether you're a beginner or an experienced developer, GeneratePress empowers you to transform your website's aesthetics with ease, making it a valuable addition to our list of top free WordPress themes.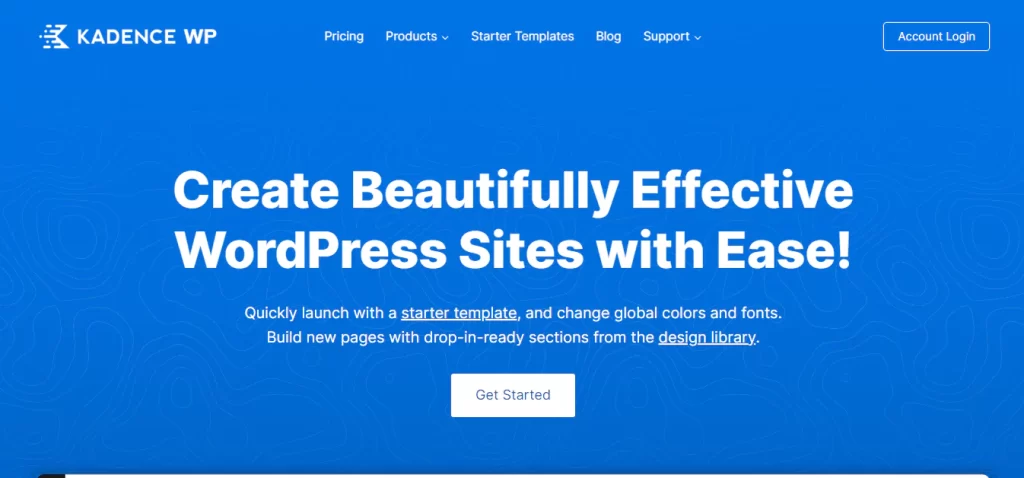 Kadence is a highly adaptable and customizable WordPress theme, making it a top choice among website creators. Its versatility and user-friendly features set it apart as a valuable option for those seeking both speed and aesthetics.
This theme's lightweight nature ensures that your website remains fast-loading, enhancing the overall user experience. In today's digital landscape, where speed is paramount, Kadence steps up to the challenge, ensuring your visitors won't be kept waiting.
One standout feature of Kadence is its drag-and-drop header and footer builder. With this intuitive tool at your disposal, you can craft customized headers quickly and easily. This flexibility empowers you to design headers tailored to your unique website vision, all in a matter of minutes.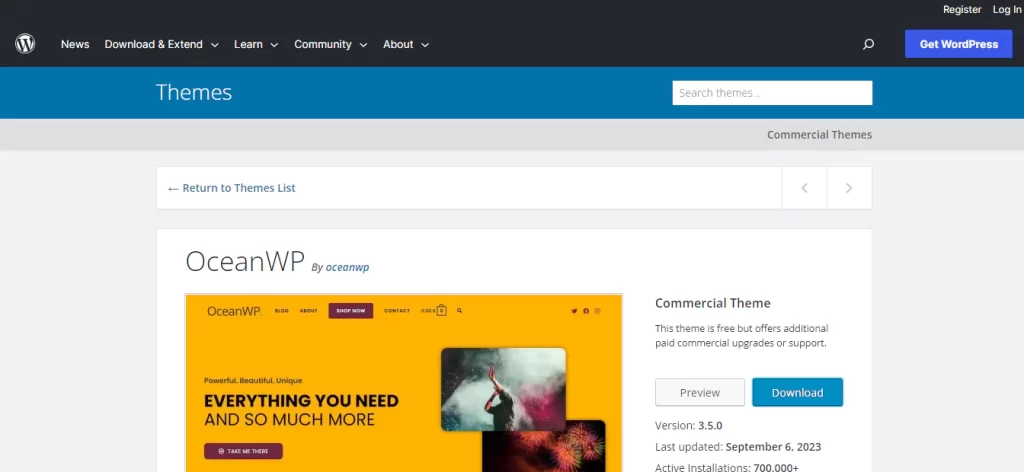 OceanWP stands out as a lightweight and highly adaptable WordPress theme, making it an ideal choice for a wide range of website projects. Whether you're running a blog, a small business, a startup, an agency, or an e-commerce shop (WooCommerce compatible), OceanWP has you covered. Additionally, it suits personal portfolio websites and various other project types, showcasing its versatility.
One of the key features that sets OceanWP apart is its foundation on the Bootstrap frontend framework. This framework ensures that your website will be fully responsive and optimized for all mobile devices, including iPad, iPhone, Android, and Windows Phone. In a world where mobile accessibility is crucial, OceanWP delivers an excellent mobile experience for your visitors.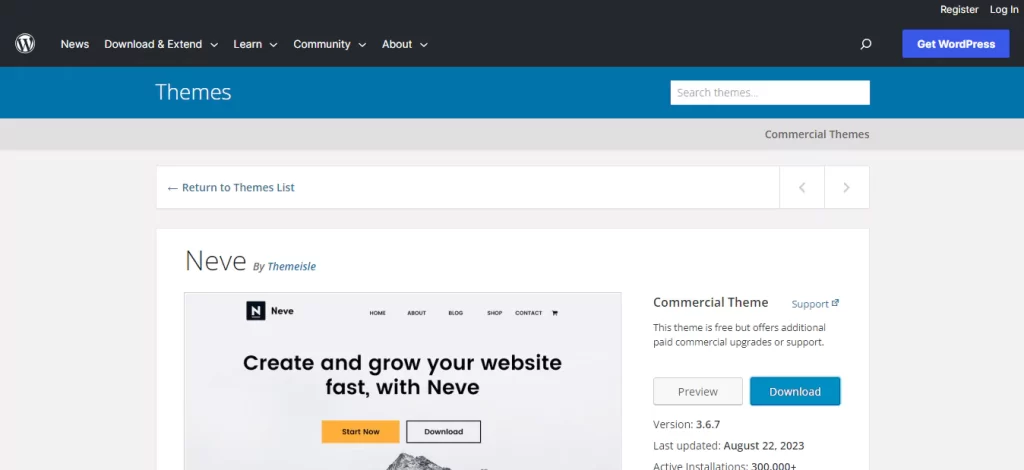 Neve is an exceptional choice when you need to swiftly establish your online presence with minimal effort. This WordPress theme offers a user-friendly out-of-the-box design that you can import effortlessly in just a few clicks. Neve is renowned for its exceptional speed, high degree of customization, and versatility, making it an ideal fit for an array of website types.
Whether you're running a blog, a small business, a startup, an agency, or an e-commerce store (fully compatible with WooCommerce), Neve is equipped to meet your needs. It also caters to personal portfolio sites and a diverse range of projects.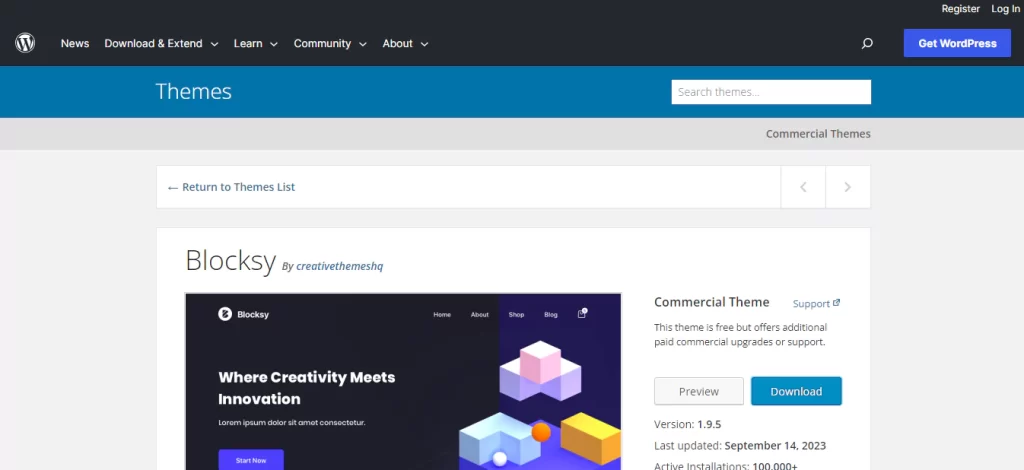 Blocksy is a high-performance WordPress theme designed to deliver lightning-fast loading times and exceptional performance. Crafted using cutting-edge web technologies, it's well-suited for websites seeking optimal speed and efficiency.
This theme is particularly tailored for those who favor the Gutenberg editor. It boasts an array of customizable options that empower users to tailor their websites to meet specific needs and preferences. Blocksy's commitment to extendability and customization makes it an ideal choice for individuals and businesses alike.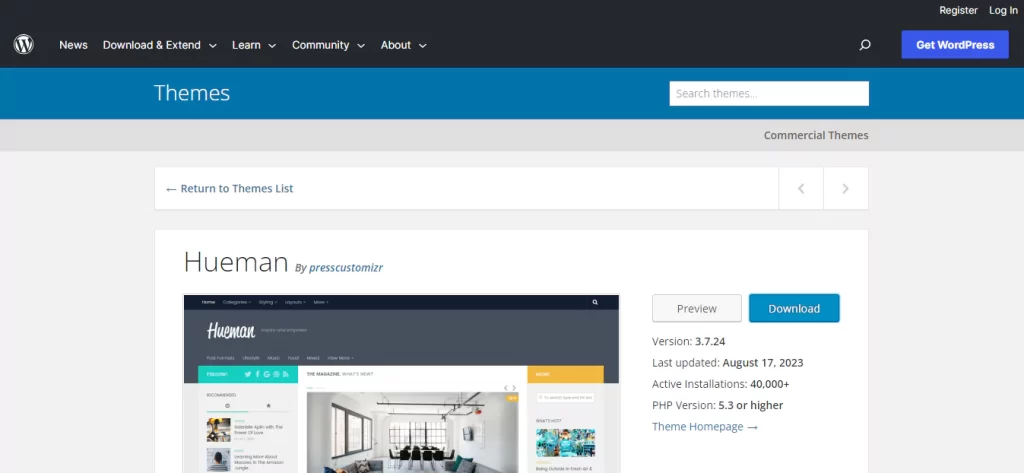 Hueman is a versatile WordPress theme designed with mobile-friendliness in mind. It's an excellent choice for blogs, magazines, and business websites. This theme is fully responsive, ensuring that your website looks great and functions seamlessly on all devices.
One standout feature of Hueman is its commitment to web standards. It employs valid HTML/CSS, which not only contributes to a smooth user experience but also makes it a reliable and robust choice for your website.
What truly sets Hueman apart is its vibrant and diverse community of users. With their support, this theme has been translated into over 25 languages, ensuring that your website can reach and engage audiences worldwide.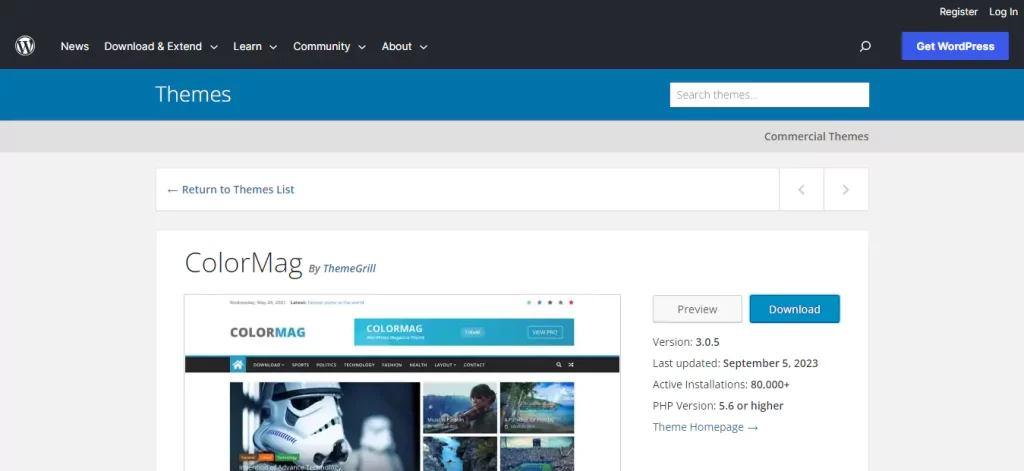 Colormag is an exceptional choice for those seeking a responsive magazine-style WordPress theme. It's tailor-made for news portals, online magazines, and publishing websites, making it the ideal solution for a wide range of content-focused projects.
One of Colormag's standout features is its collection of eight free starter demos. These demos cover diverse industries, including health, food, entertainment, sports, fashion, and more. Whether you're passionate about wellness, cuisine, or the latest fashion trends, Colormag offers an effortless way to create a magazine-style website that perfectly suits your niche.
The versatility of Colormag extends beyond its demos. With this theme, you can easily customize and fine-tune the aesthetics of your website to match your unique vision. Its responsiveness ensures that your content looks impeccable and functions smoothly on various devices, from desktops to smartphones.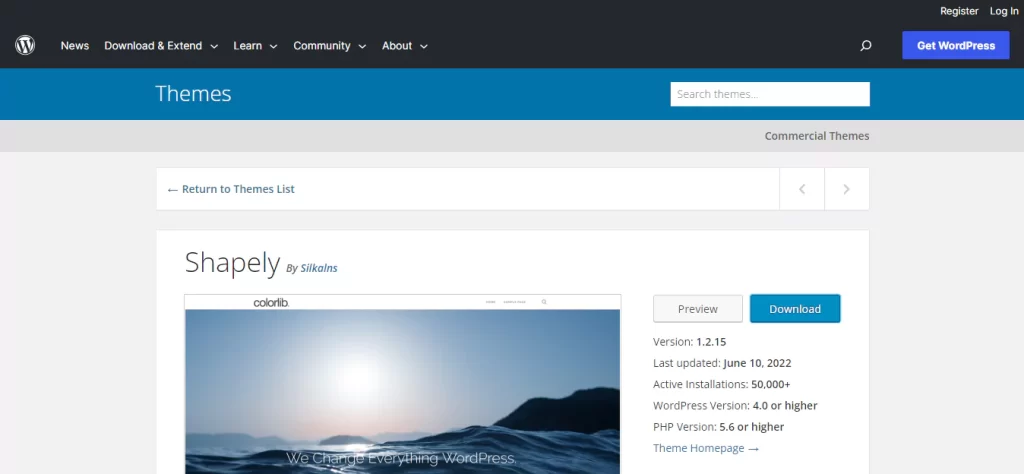 Shapely is a remarkable free WordPress theme that empowers website creators to craft elegant and contemporary online platforms. Whether you're envisioning a news portal, an online magazine, or a publishing site, Shapely offers a dynamic and adaptable solution.
This one-page WordPress theme stands out with its pixel-perfect design and exceptional functionality. Shapely combines aesthetic appeal with robust features, making it a standout choice for those who seek both style and substance in their website design.
Shapely's versatility allows you to bring your vision to life, creating a website that perfectly aligns with your brand identity and content focus. Its modern design elements ensure that your website looks visually stunning and engaging to your audience.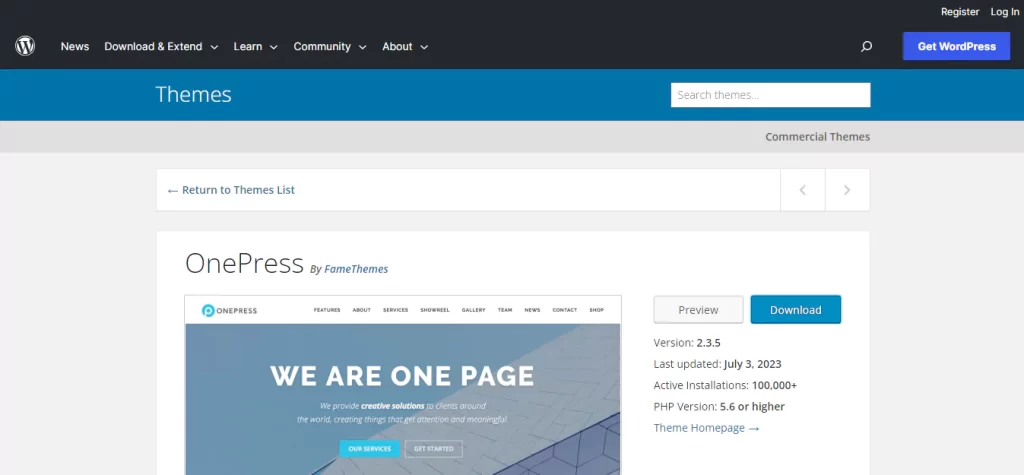 OnePress is a standout WordPress one-page theme known for its creativity and flexibility. This theme is a perfect match for various purposes, including business websites, portfolios, digital agencies, and product showcases. Whether you're an individual or part of a digital agency, OnePress offers the tools to craft an impressive online presence.
This theme's versatility shines, making it an excellent choice for businesses and professionals looking to make a statement online. While it doesn't feature a dedicated projects section, it compensates by providing a clean and engaging space for video overviews or showcasing your services.
OnePress empowers you to create a visually appealing and dynamic website that aligns with your unique goals and content. It's an ideal choice for those seeking an aesthetically pleasing and functional design, whether you're showcasing your portfolio, promoting your digital agency, or presenting products to your audience.
Conclusion
Whether you're a small business owner, a blogger, a digital agency, or someone with a passion for creating an online presence, these free WordPress themes cater to diverse needs and preferences. You can easily import pre-designed templates, customize layouts, and make your website stand out in the digital landscape.
Incorporate these themes into your WordPress site, and you'll discover how they enhance the aesthetics and functionality of your online platform. Remember, the right theme can make a significant difference in attracting and engaging your audience while conveying your message effectively.
So, take advantage of these free WordPress themes to give your website the makeover it deserves, and enjoy the benefits of an attractive and user-friendly online presence. Elevate your website's aesthetics and make a lasting impression on your visitors, all while staying within your budget. Your journey to a visually captivating website begins here.