Cruising with 1Byte: 30% OFF Domain Names during the Festivities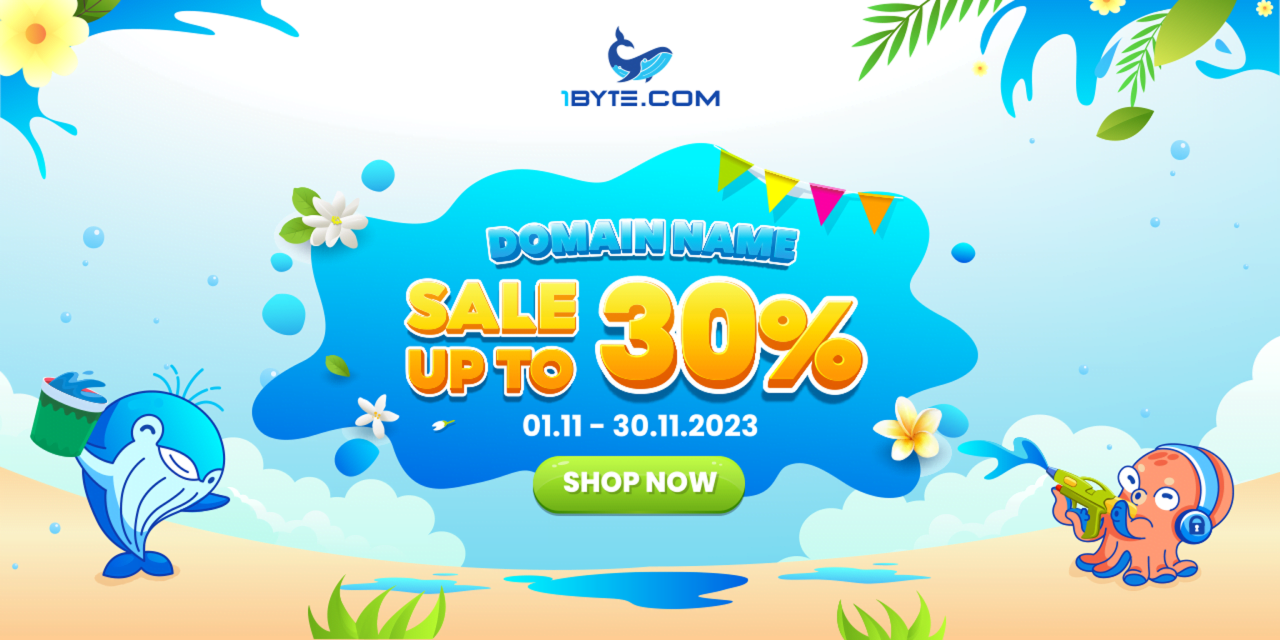 Make a splash as we celebrate Cambodia's Water Festival and Independence Day in November 2023 with 1Byte! As a leading cloud computing firm in Cambodia, we are ecstatic to commemorate these national festivities by offering an extraordinary 30% DISCOUNT on all DOMAIN NAMES, empowering businesses in Cambodia to establish a dominant online presence and elevate their visibility to new heights.
DISCOUNTS
ESSENTIAL CONDITIONS
Promotion period: 1/11/2023 – 30/11/2023
Discount type: Limited-Time Offer (PT)
Applicable For
New purchases
Usage time extensions
Note
Why Should You Choose 1Byte for Your Domain Names?
Throughout our 1st year, 1Byte has established itself as the go-to domain name provider, and as we celebrate Cambodia's Water Festival and Independence Day, we reiterate our commitment to delivering unparalleled service at an affordable price.
Here are some compelling reasons why 1Byte remains the optimal choice for your domain names during this special occasion:
Competitive Pricing:
Our domain name prices are among the most competitive in the market, and with our current 30% sale, you can secure your domain name for a maximum of $1 per order. This ensures that even small business owners and individuals can launch their online presence without straining their budgets.
Wide Range of TLDs:
We offer a wide range of TLDs (Top-Level Domains) suitable for various types of businesses and industries. Whether you're a blogger, e-commerce store owner, or a digital marketing agency, we have the perfect TLD for you.
Reliable and Secure:
We employ the latest technology and security measures to safeguard your domain names. Your website and domain name are in trusted hands with 1Byte, much like the faith Cambodians place in their national celebrations.
User-Friendly Platform:
Our platform is designed for ease of use, allowing you to purchase and manage your domain names with just a few clicks. You don't need to possess technical expertise to navigate our platform.
Excellent Customer Support:
Our customer support team is available 24/7 to assist with any queries or issues you may encounter. We take pride in providing excellent customer service and support, much like the unity and support shown during Cambodia's Water Festival and Independence Day.
Let's commemorate this special occasion together and forge ahead into a promising digital future with 1Byte. Thank you for being a part of our incredible journey as we celebrate Cambodia's Water Festival and Independence Day.