This New Year, You Will Get 2 Extra Months When You Buy Our Hosting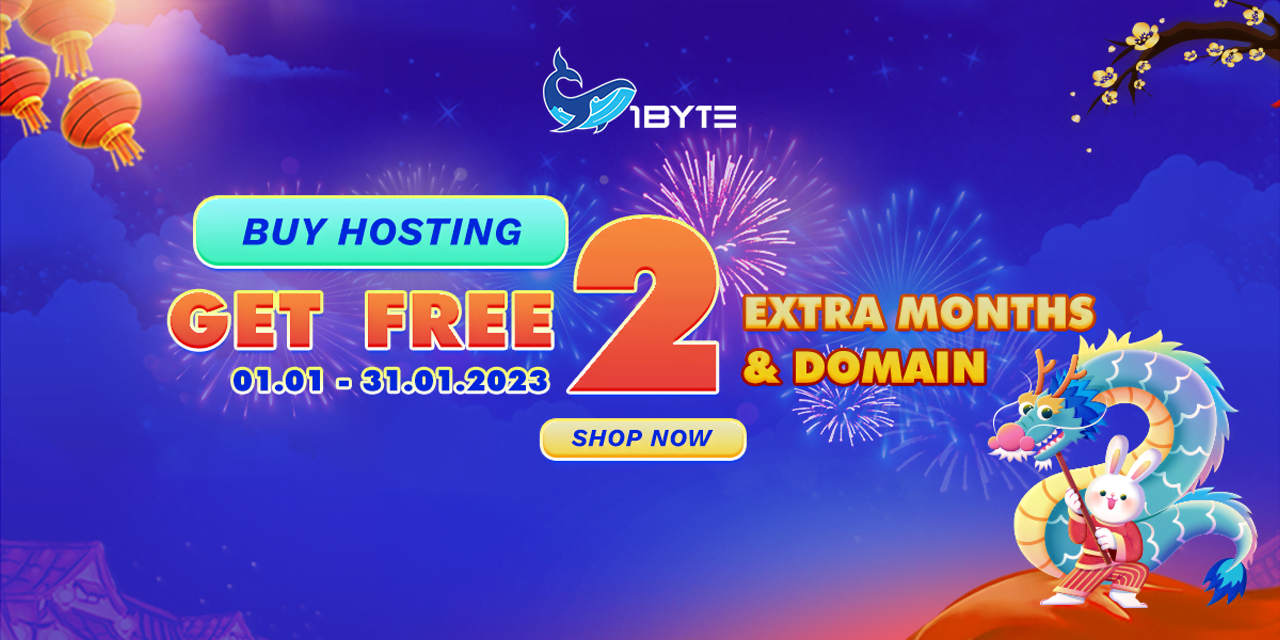 + Promotion period: 1/1/2023 – 31/1/2023
+ When you buy hosting with a payment plan of at least 1 year, or when you buy new domains connected to said hostings with certain TLDs (fun, host, online, site, press, store, space, pw, tech, website, agency, center, digital, live, studio, business, company, solutions, com, net, xyz, org, biz, co), you get $5, $6 and $7 discounts for our Basic, Standard and Advanced Shared Hosting packages
+ For all TLDs, you get $5 discounts when you buy our Cloud Hosting services
+ 1 month extra when you choose our Cloud Server service's 6-month Payment Plan, 2 months extra when you choose our Cloud Server service's 12-month Payment Plan
+ 1 month extra when you choose our Cloud Hosting service's 24-month Payment Plan, 2 months extra when you choose our Cloud Hosting service's 36-month Payment Plan
If you host your website in the cloud instead of on your own server, it will be more reliable. Also, it's much better if it comes with an attractive domain that deserves strong hosting services from a well-known service provider like 1Byte!
At 1Byte, we are always looking into what our customers want. This lets us improve our services and help everyone who chooses to work with us in the best way possible. Our research led to this great deal for the start of 2023!
Especially, during the first month of 2023, when you buy our HOSTING SERVICES, you can get up to 2 FREE ADDITIONAL MONTHS and DOMAINS on top of what you already get. You've come to the right place if you want high-quality cloud hosting and domain registration services at a price that doesn't break the bank. Take advantage of the great "1-for-all" deals shown above.
To get the year off to a strong start, make sure your company is ready to work at its peak. So take advantage of these offers while they last!
+ To get the latest promotions, events. Please check out this link
+ To get the fastest answer, the FAQ Page is the best place to look for
+ Keep up with 1Byte's YouTube channel to make it simpler to comprehend
+ As always, 1Byte would bring you fresh content and exclusive deals in the future. STAY TUNED!!!