Top 10 AI Website Builders You Should Know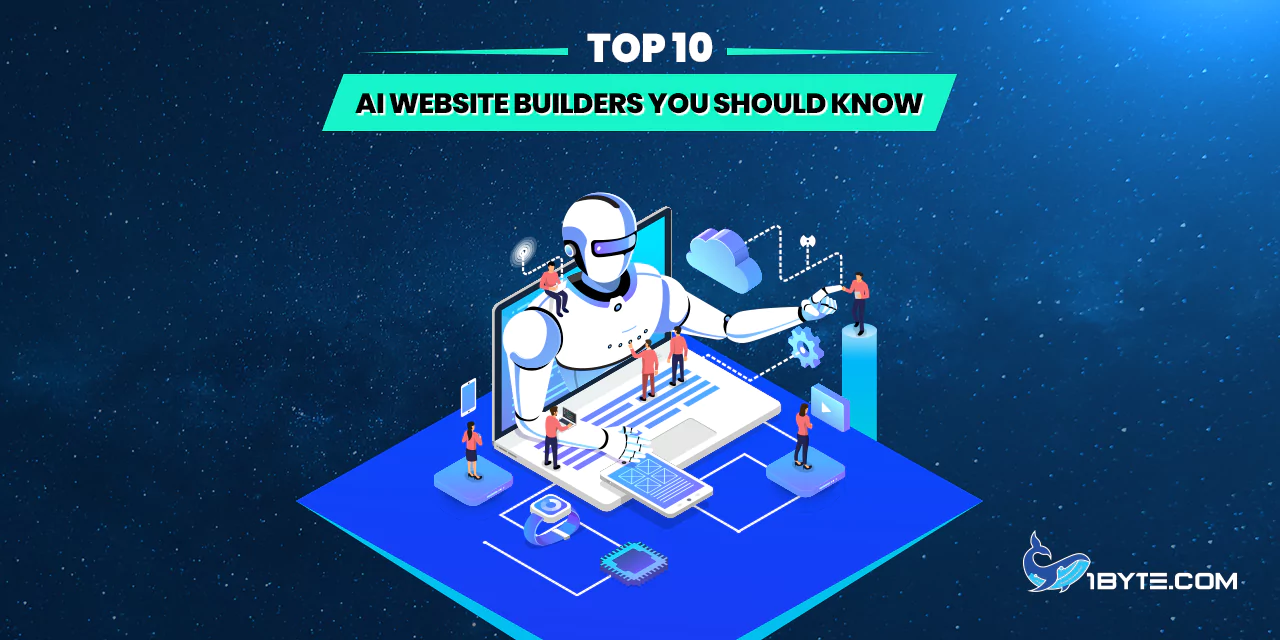 AI website builders are a game-changer. These innovative tools harness the power of artificial intelligence to make web development easier and more efficient. Whether you're a novice or an experienced developer, these AI website builders can simplify the process and help you create stunning websites. In this article, we at 1Byte will introduce you to the top 10 AI website builders that you should know. From Wix ADI to 10Web, these platforms offer a range of features and benefits that can enhance your web development experience. So, if you're looking to streamline your website creation journey, keep reading to discover the best AI website builders available.
The Importance of AI Website Builders
Why are AI website builders such a buzz in the world of web development? These innovative tools are changing the game by harnessing the power of artificial intelligence. This section explores the significance of AI website builders in creating an efficient and user-friendly website development process. By the end of this section, you'll have a clear understanding of why these tools have become essential for both beginners and experienced developers alike.
Definition of an AI website builder
An AI website builder, in simple terms, is a tool that harnesses Artificial Intelligence to simplify the intricate process of website design. It eliminates the need for manual coding, allowing both beginners and professionals to create their websites swiftly and with ease. These builders rely on a blend of machine learning algorithms to automatically generate a fully functional website.
By utilizing artificial intelligence, these tools aim to streamline every aspect of website creation, from designing the layout to structuring content across web pages and even making the site live. Some AI-powered applications take user input through surveys or prompts, allowing users to customize their websites. If the outcome of the website genuinely depends on user input, it's considered AI-powered, making these AI website builders a valuable asset for web developers and creators.
Importance of AI in website development
Artificial Intelligence (AI) has emerged as a transformative force within web development, ushering in new and innovative solutions. The significance of AI in website development is underscored by compelling statistics and examples.
The global AI market, encompassing web development, is on an extraordinary trajectory, poised to soar from $1.4 billion in 2016 to nearly $60 billion by 2025. This remarkable growth signals the pivotal role AI will play in shaping the web development landscape.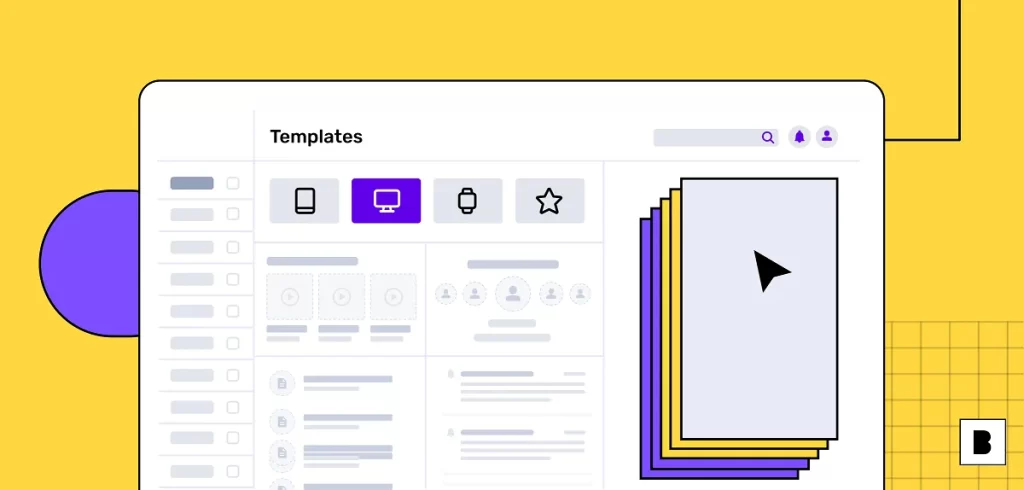 Evidently, AI's influence is steadily expanding. A recent survey reveals that 70% of participants are planning to integrate AI into their web development processes. This adoption rate exemplifies AI's growing sway in the realm of modern web development.
Furthermore, AI holds the potential to revolutionize productivity, with projections suggesting an increase of 40% or more by 2035. This remarkable figure underscores AI's status as a game-changer in the digital arena, including web development.
The financial aspect is equally noteworthy, with revenue generation from AI projected to reach $126 billion in 2025. Web development companies are actively contributing to this surge by developing AI-enabled websites.
Collectively, these statistics and examples elucidate the rising significance and influence of AI in the dynamic field of website development.
Benefits of using AI in website development
The benefits of incorporating AI in website development are substantial and impactful. First and foremost, AI website builders significantly expedite the website creation process. They eliminate the need for intricate coding, allowing both novices and experts to build websites swiftly and efficiently.
Moreover, AI enhances the user experience. These builders can analyze user behavior and preferences, making websites more personalized and user-friendly. This results in higher user satisfaction and longer visit durations.
AI also plays a pivotal role in SEO. AI-powered tools can optimize content, meta tags, and images for search engines, boosting a website's visibility and search rankings. This, in turn, attracts more organic traffic. Furthermore, AI can streamline content management, which also compounds SEO. It can automatically organize and categorize content, making it easier for users to navigate websites and find relevant information.
Security is another critical aspect. AI can detect and prevent security threats, safeguarding websites and user data from potential breaches and attacks.
Lastly, AI website builders often come with data analytics capabilities. They can track user data and provide valuable insights, helping website owners make informed decisions and improvements.
Top 10 AI Website Builders Right Now
Now, let's dive into the heart of the matter – the top 10 AI website builders that are making waves in the world of web development. These AI-powered platforms have revolutionized the way websites are designed and created. In this section, you'll get an in-depth look at each of these AI website builders, their unique features, and what sets them apart. Whether you're a newcomer looking for a user-friendly platform or an experienced developer seeking advanced tools, there's something here for everyone. Get ready to explore the best AI website builders available right now and discover how they can simplify your web development journey.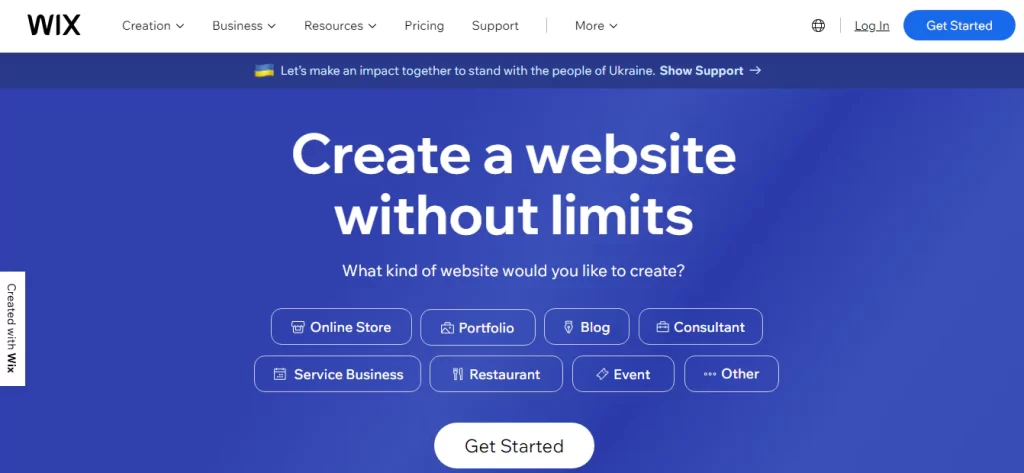 Wix ADI stands as a well-known name in the world of web development. This platform harnesses the power of artificial intelligence to create fully-designed websites with remarkable ease. By answering a few simple questions, users can witness the magic of AI at work, generating a customized and professional website within minutes.
One standout feature of Wix ADI is its ability to import existing online content, including social media posts, into the new website. This streamlines the process further, allowing users to integrate their online presence seamlessly.
The pricing model for Wix ADI follows a freemium structure, offering both free and premium plans, making it accessible to a wide range of users. Whether you're a beginner or a pro, Wix ADI is a top-tier AI website builder worth exploring.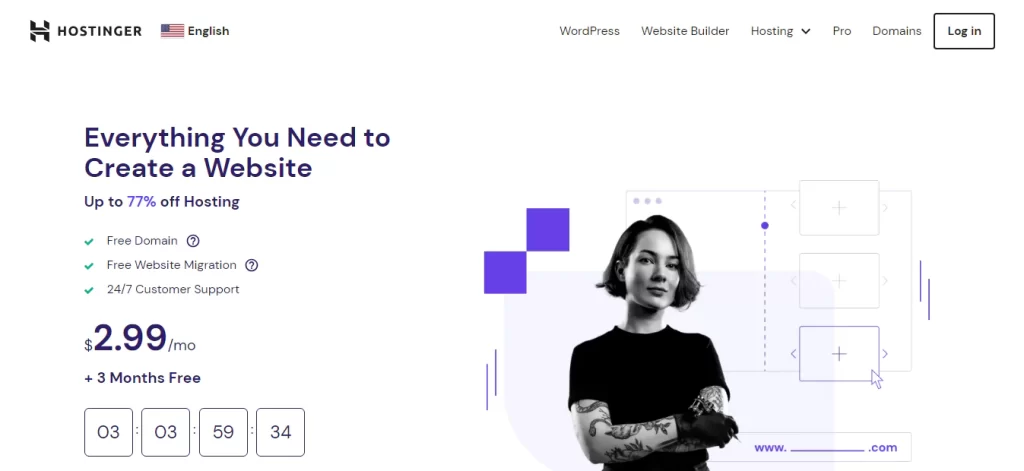 Hostinger, known for its all-in-one and cost-effective approach, is a remarkable AI website builder. This platform doesn't just create websites; it's an entire web solution.
Hostinger's AI-powered website builder delivers a comprehensive package that includes not only website creation but also a free custom domain, email accounts, SEO tools, eCommerce features, and seamless marketing integrations. With this tool, users can harness the full potential of their online presence.
Starting at just $2.99 per month, Hostinger's pricing is budget-friendly, making it an attractive choice for those seeking a powerful yet affordable AI website builder. If you're looking for an all-inclusive solution, Hostinger is definitely worth considering.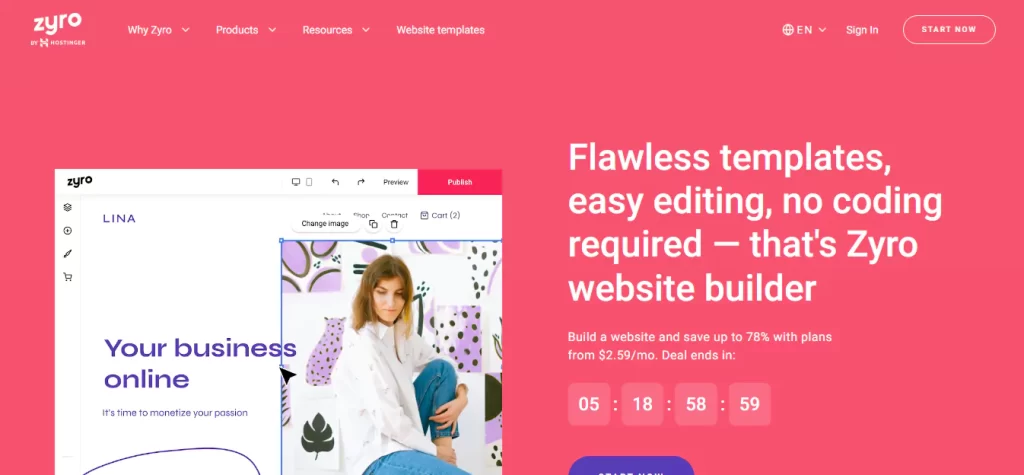 Zyro, an all-in-one, AI-powered website builder, has rapidly gained attention for its remarkable capabilities. This platform empowers anyone to create a professional website in under an hour.
Zyro achieves this feat by offering a suite of designer-made templates, an intuitive drag-and-drop grid editor, and AI-driven tools that simplify the web development process. These elements come together seamlessly, enabling users to craft impressive websites with ease and efficiency.
For those seeking a fast and user-friendly solution, Zyro stands out as an AI website builder that can help you bring your web presence to life in record time.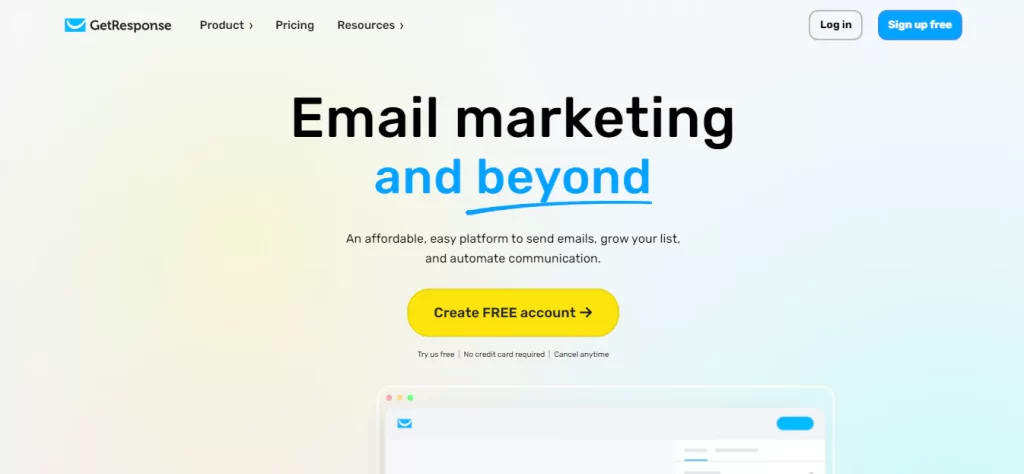 GetResponse offers an outstanding free website builder, making it accessible for users to craft professional websites without any coding knowledge. This builder relies on AI-driven website builder templates, simplifying the web development process.
Users have the flexibility to create a website from the ground up, allowing for full customization. Alternatively, they can use the AI-wizard, which is capable of generating a personalized website in mere seconds.
Whether you're a coding novice or an experienced developer, GetResponse's AI website builder provides a powerful and user-friendly solution to create a stunning web presence. It's a great option for those seeking efficiency and customization in their web development journey.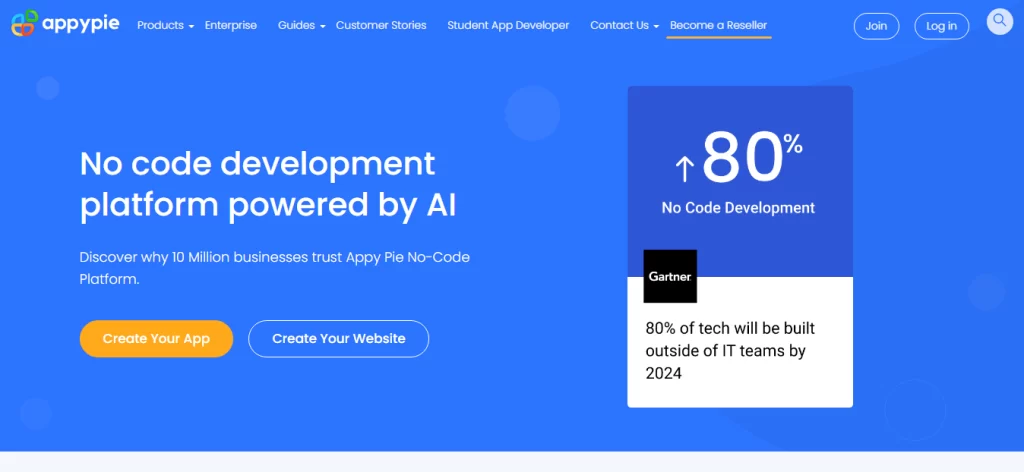 Appy Pie's AI Website Builder is a game-changer, democratizing website development by making it accessible and affordable for everyone. Small business owners and individuals with limited technical expertise, in particular, benefit from this innovative solution.
The key to Appy Pie's success lies in its highly-advanced technology. It utilizes Natural Language Processing (NLP) and Machine Learning (ML) algorithms to generate website content and design templates. This approach ensures that even those with minimal technical skills can create professional and visually appealing websites.
Appy Pie's AI website builder caters to those seeking affordability, accessibility, and user-friendliness, making it an ideal choice for a wide range of users. It's a testament to how AI is simplifying web development and putting the power of the internet into the hands of many.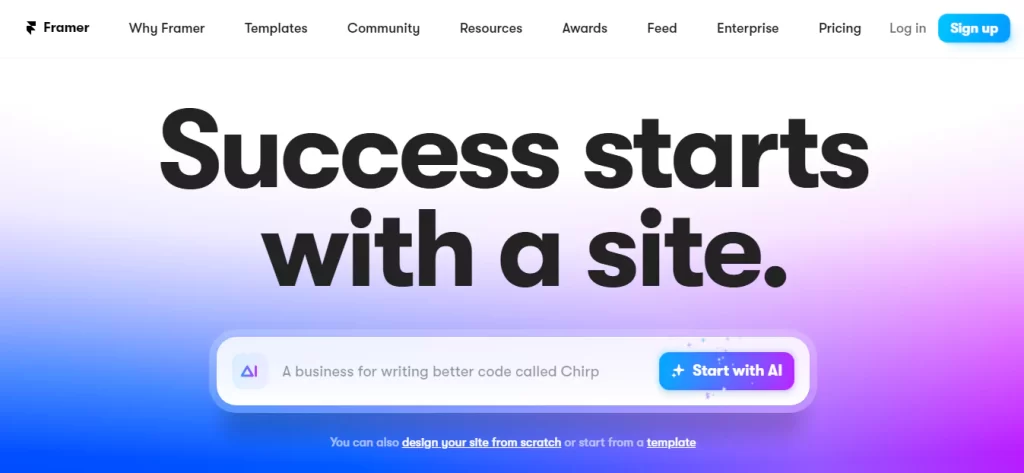 Framer is at the forefront of technology, introducing cutting-edge AI features that promise to revolutionize website creation and management. These AI features from Framer have the potential to reshape how websites are designed and operated.
Framer offers a range of free AI features and tools that accelerate the process of taking your brand or business online. With Framer's assistance, you can establish your online presence faster and more efficiently than you might have imagined.
Framer's commitment to leveraging AI in web development positions it as a powerful tool for those looking to expedite their online journey. This platform is a valuable asset for businesses and individuals seeking to harness AI's capabilities in the realm of website creation and management.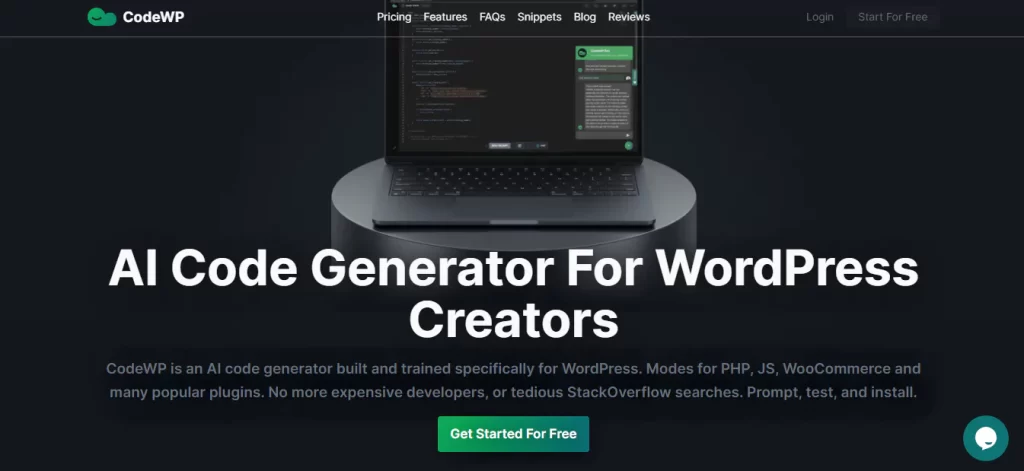 CodeWP stands as a powerful AI-driven WordPress code generator, tailored for WordPress creators. This innovative tool is adept at generating code for various WordPress components, including plugins, custom post types, WooCommerce, Oxygen, Breakdance, and Regex conditions.
With CodeWP, WordPress creators can streamline their workflow, as it handles the complex task of generating code. This not only saves time but also ensures that the generated code is accurate and aligned with WordPress standards.
For those in the WordPress ecosystem, CodeWP emerges as a valuable asset, enhancing productivity and code quality. Whether you're a seasoned developer or a WordPress enthusiast, this AI website builder tailored to WordPress is worth exploring. It simplifies the coding process, allowing you to focus on the creative aspects of web development.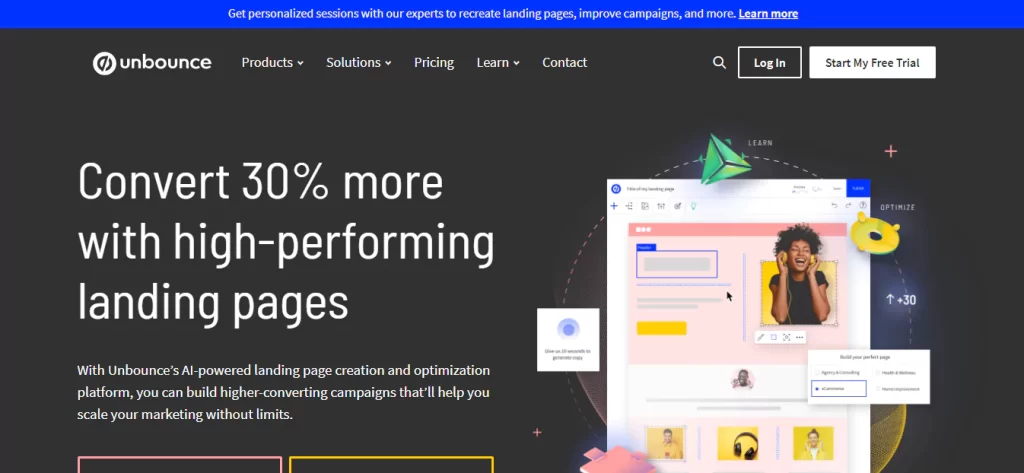 Unbounce, an AI-powered landing page builder, is a game-changer for businesses seeking to create impactful landing pages swiftly. This innovative platform empowers businesses to design stunning, high-performing landing pages within a matter of minutes.
Unbounce's intelligent features and intuitive interface make it the preferred choice for those aiming to convert website visitors into leads, signups, and sales. With Unbounce, the focus is on results – it simplifies the landing page creation process and enhances the overall user experience.
For businesses and marketers, Unbounce is a must-consider AI website builder. It's a solution that streamlines the creation of landing pages, ensuring a seamless transition from visitor to customer. With Unbounce, your marketing campaigns can reach new heights of success.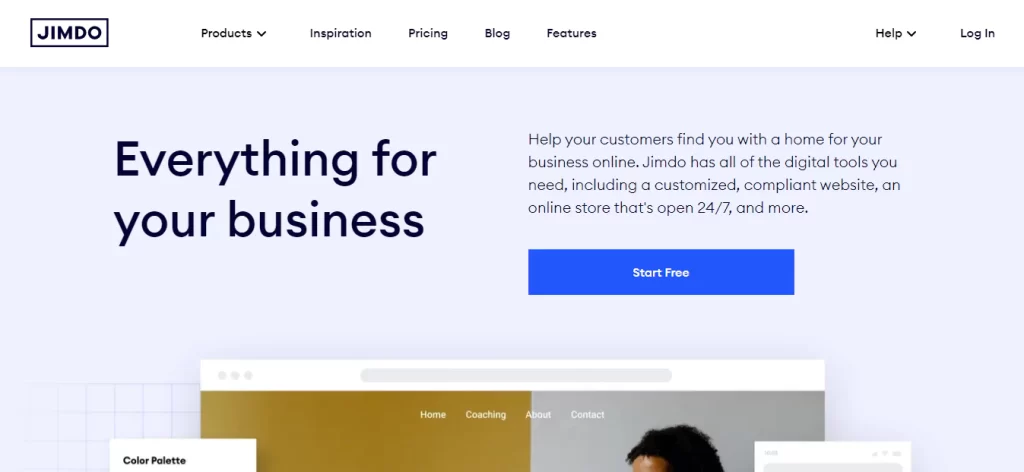 Jimdo is a remarkable AI-powered website and store generator that simplifies the process of establishing a professional online business presence. This platform offers an all-in-one solution that includes a personalized website and a 24/7 online store.
For businesses and entrepreneurs, Jimdo is a game-changer. It not only streamlines the website creation process but also provides the essential tools to reach and engage customers effectively. With Jimdo, building a business presence online becomes an accessible and efficient task, ensuring that you can focus on what truly matters – growing your brand and connecting with your audience.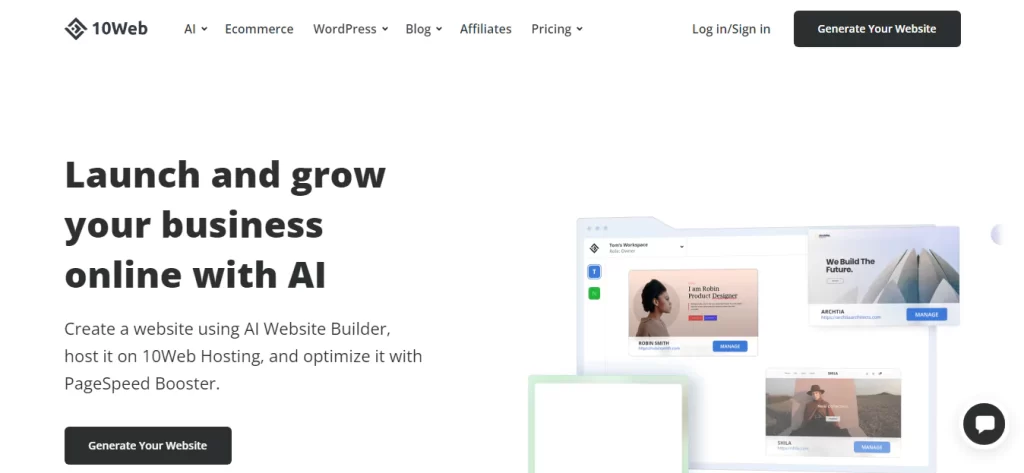 10Web is an AI WordPress Builder that offers a comprehensive solution for creating, hosting, and managing WordPress websites with the help of artificial intelligence.
This platform simplifies the entire process of WordPress website development. It's an all-in-one solution that provides users with the tools they need to effortlessly design, host, and maintain their WordPress websites.
For those looking to harness the power of AI for WordPress, 10Web is another go-to choice. It streamlines the process, allowing users to focus on their website's content and functionality while AI takes care of the technical aspects. This platform is a game-changer for both newcomers and experienced WordPress users, offering efficiency and convenience in website management and creation.
Conclusion
In the dynamic world of web development, AI website builders have emerged as a powerful and transformative force. These innovative tools, highlighted throughout this article, offer a wide array of benefits, from streamlining the website creation process to enhancing user experience and optimizing SEO. They cater to both beginners and seasoned developers, democratizing the web development landscape.
As we conclude our exploration of the top 10 AI website builders, it's evident that AI is shaping the future of web development. These platforms simplify complex tasks, saving time and resources while ensuring professional and efficient outcomes. They empower businesses, individuals, and WordPress enthusiasts to create impressive online presences, ultimately boosting customer engagement and conversions.
Whether you're in need of a professional landing page, an online store, or a personalized WordPress website, these AI website builders have you covered. They're designed to simplify, enhance, and expedite the web development journey for all. With AI's growing influence in the digital space, the possibilities are limitless. The future of website creation is here, and it's AI-powered.