+ At 1Byte, we always listen to customer's feedbacks to improve our product quality and services. We are very happy to let you know that you can now try our Cloud Server and Web Hosting, which include Shared Hosting, Cloud Hosting services for FREE
+ That's not all, we often runs Special Events with massive discounts. Our service price which is already reasonable, now it has become even more affordable because of your support!
+ In this tutorial, I will show you how to get 1 month free for our basic cloud server and web hosting services.
+ As you can see in the image above, when you press Get Free Trial button on the top menu, you will get multiple vouchers to try our services for FREE/
+  Voucher 1: Get $11.99 OFF when buy Cloud Server. You can try our basic cloud server for a month or get 11.99$ OFF when purchasing a more expensive cloud server package. The same behavior applies to the remaining vouchers.
+ In order to protect our services from being abused, you must meet the following two conditions:
Your account email address has been verified
You have topped-up at least 10$ to your account credit once 
+ So why does the title say FREE, but there is still a $10 top-up for the service?
→ This is to prevent our resources from being abused indiscriminately. We will not deduct the top-up credit in your account unless the package price is higher than the discount you got for free trial.
How to Get Free Usage With All Cloud Services for 30 Days
Step 1: Login into 1Byte's account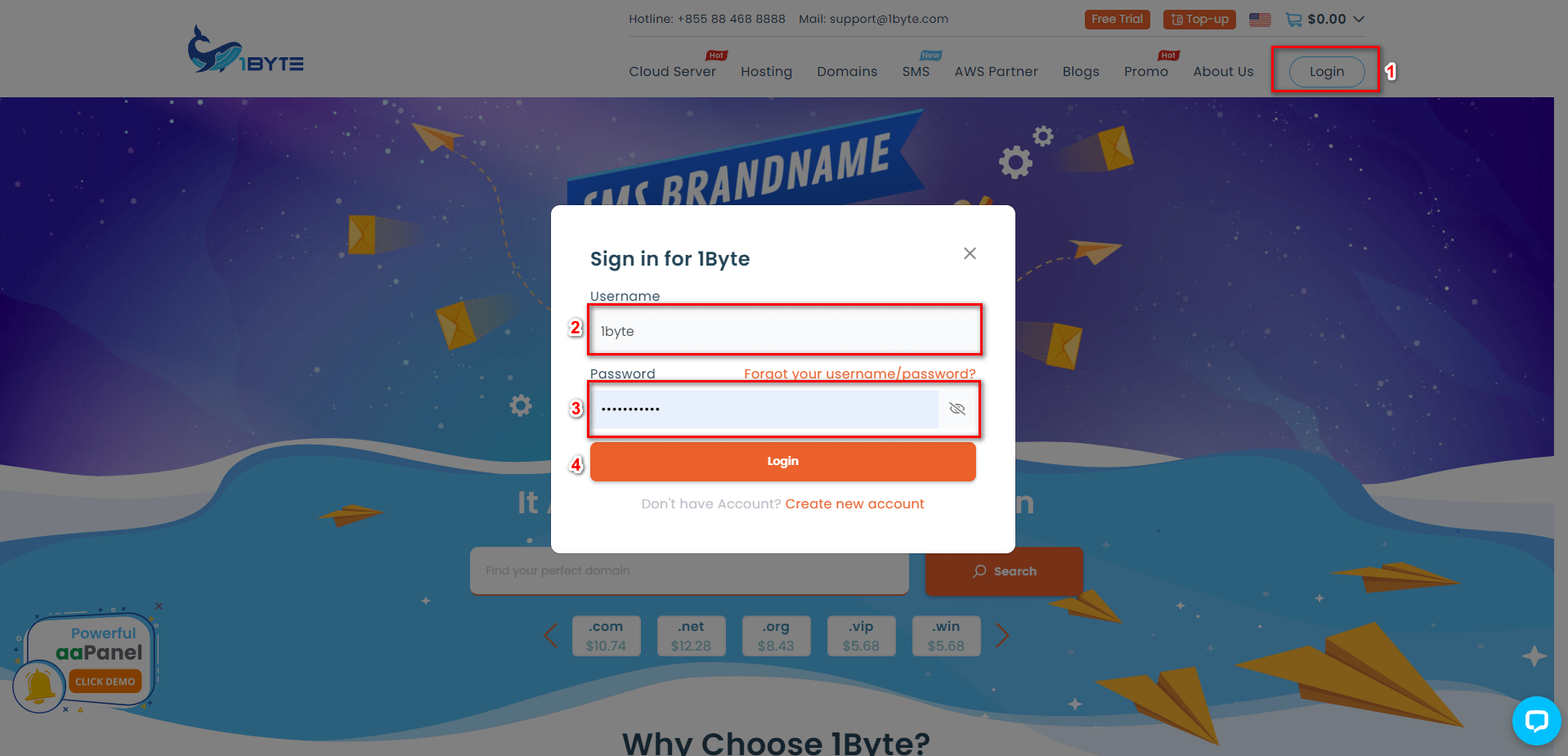 Step 2: Click On Free Trial Button
+ On the top of the website, you'll find a Free Trial button. Click on it
+ In one of the following four scenarios, you are likely to encounter a pop-up voucher.
| No | Case | Example | What to do? |
| --- | --- | --- | --- |
| 1 | You've never verify your email before and have never topped up at least $10 | | You have to verify email and top-up into your account at least $10 |
| 2 | You've been top-up for at least $10 before, but never verified your email | | You have to verify your email |
| 3 | You've verified email before, but never top-up at least $10 | | You have to top-up at least $10 into your account |
| 4 | You've previously verified your email address and topped up at least $10 | | You just need to click Get free trial vouchers button |
Step 3: Verify email and/or top-up at least $10
+ When the two conditions (verified email & already topped up) are satisfied. Now you just need to click on Get free trial vouchers button
Step 5: Select Service And Appy The Free Trial Voucher
💗 PUT YOUR LEARNING INTO ACTIONS NOW 💗

+ To get the latest promotions, events. Please check out this link
+ To get the fastest answer, the FAQ Page is the best place to look for
+ Keep up with 1Byte's YouTube channel to make it simpler to comprehend
+ As always, 1Byte would bring you fresh content and exclusive deals in the future. STAY TUNED!!!