What to Expect at the 32nd SEA Games in Cambodia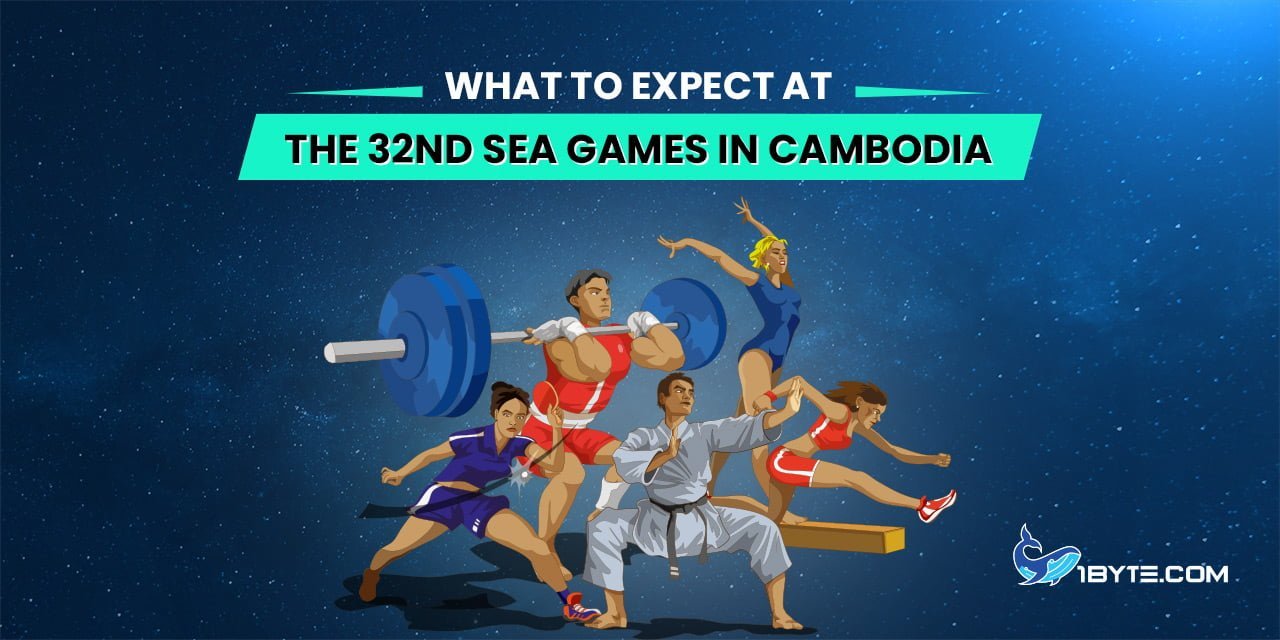 Are you prepared for the 32nd Southeast Asian Games? Prepare to be amazed by an astonishing exhibition of athletic skill when Cambodia hosts the 32nd SEA Games from May 5 to 17, 2023. Over 10,000 competitors from 37 sports will compete in what will be one of the largest SEA Games to date. Cambodia has committed more than $100 million on the games, ensuring an outstanding experience for both athletes and fans. This article from 1Byte will go over what to expect at the 32nd SEA Games and why you shouldn't miss out on this great event.
To celebrate the 32nd SEA Games, 1Byte invites you to participate in our mini-game to win exciting prizes: [Link]
An Introduction
In this section, we'll give you an overview of the 32nd SEA Games in Cambodia. Let's get started!
The 32nd SEA Games, the location, and its significance
As the 32nd Southeast Asian Games approaches, get ready to cheer for your favorite competitors! The event will take place in Phnom Penh, Siem Reap, Sihanoukville, Kampot and Kep, Cambodia, from May 5 to May 17, 2023. This event is notable because it brings together participants from 11 Southeast Asian countries, encouraging national unity and camaraderie.
fa
Athletes from all around the region will compete in 37 sports, with a total of 608 events – 304 for men, 229 for women, and 48 mixed. It provides athletes with the opportunity to compete at an international level and earn significant experience.
The 11 competing nations at the games are:
Cambodia
Brunei Darussalam
Democratic Rep. of Timor-Leste
Indonesia
Lao People's Democratic Republic
Malaysia
Myanmar
Philippines
Singapore
Thailand
Vietnam
The SEA Games are not only an opportunity for athletes to demonstrate their abilities, but also for Southeast Asian countries to compete in friendly competition. It is an event that fosters national unity and fraternity by bringing together people from all cultures and backgrounds. The 32nd Southeast Asian Games will definitely be a remarkable event, full of exciting moments and amazing performances.
Cambodia's significance as the host country for the 32nd SEA Games
The significance of Cambodia as the host country for the 32nd SEA Games cannot be emphasized. This will be Cambodia's first time hosting the games, which is an incredible achievement in and of itself. Cambodia's status as a founding member of the Southeast Asian Peninsular (SEAP) Games Federation has aided its legitimacy as a host country.

The mascots for the 32nd SEA Games in Cambodia will be two adorable rabbits. Borey and Rumduol will reflect Cambodia's welcoming and kind approach. Borey holds a torch, while Rumduol extends a hearty welcome to the guests. "Sports Live in Peace" is the motto of the 32nd SEA Games. According to the CAMSOC, peace is vital for the games to take place. There will be no rights to sports activities, rights to organize sports events, development, or SEA Games in Cambodia if there is no peace. As a result, sports have evolved into a vehicle for fostering peace, development, and overall human well-being.
Cambodia is strict and careful about the preparations, which was additionally reflected in the logo design. The 2023 Cambodian SEA Games Organizing Committee carefully picked the official logo and tagline for the games, with the design featuring Angkor Wat and four dragons as its key motifs. This design reflects Cambodia's rich cultural past and serves as a symbol of the country's unity as it hosts the games. The logo design competition was held in 2019, with the final design chosen from among various entries.
The introduction of the official logo was a crucial milestone, signaling Cambodia's readiness to welcome the 11 Southeast Asian countries. The Cambodian government and people are looking forward to the games, and preparations are underway to ensure the event runs smoothly.
A Closer Look
As we prepare for the highly anticipated 32nd SEA Games in Cambodia, it is critical to examine what to expect during this biennial event.
Sports to Look Out For
The 32nd SEA Games will feature 37 sports, providing a diverse range of alternatives for both participants and spectators. Football, athletics, aquatics, archery, badminton, basketball, boxing, and canoeing are among the most popular sports that fans can expect to watch.
Golf, gymnastics, handball, hockey, judo, karate, and muaythai, as well as petanque, rowing, rugby sevens, sailing, sepak takraw, shooting, table tennis, taekwondo, and tennis, will also be featured. There will also be a traditional boat race (dragon boat), triathlon and duathlon (run-bike-run), indoor and beach volleyball, weightlifting, and wrestling.
With a varied choice of sports to watch and enjoy, the 32nd SEA Games in Cambodia are guaranteed to provide something for everyone.
Rules & Regulations
The Southeast Asian Games Federation regulates the games, with oversight from the International Olympic Committee and the Olympic Council of Asia, to ensure fair competition. All athletes who compete must be registered with their National Olympic Committee.
Each SEA Games sport has its own set of rules and regulations. In Cambodia, for example, a rule will be implemented that enables 100% participation in combat sports or martial arts, while other sports will be limited to 70% of the events.
These rules are in place to ensure that every sport has an equal chance to participate. They are also intended to stimulate participation and prevent a single country from dominating the games. So, whether you like swimming, basketball, or any other event, the 32nd SEA Games in Cambodia will include some fierce competition.
Broadcasting
If you can't make up to Cambodia for the 32nd SEA Games, don't worry: international broadcasters will not be charged for live television rights to cover the games. This means you can watch the games from your own house, no matter where you are in the world. If you plan on attending the games, make sure to reserve your free tickets ahead of time if you want to watch from inside the stadium.
Cambodia is expecting a large turnout for the games, and the organizers have made sure that everyone has a good time. To make it easy for sport delegations from all 11 participating countries in the SEA Games and ASEAN Para Games, Cambodia will cover all meal and hotel costs. This means that the delegates will not be obliged to pay the standard $50 per person per day as requested by previous hosts.
Cambodia hopes to increase warm relations and lead to success as the first SEA Games host with free tickets for all and complete coverage of food and hotel services for delegations. Get ready for an incredible two weeks of sports action in Cambodia, whether you're watching from home or attending the games in person.
Conclusion
With 11 countries competing in 37 different sports, it is going to be exciting, dramatic, and full of spectacular performances. 1Byte, Cambodia's largest cloud service provider, is happy to sponsor the event by offering dependable and secure cloud infrastructure to enable smooth and uninterrupted game streaming. In fact, we're currently holding a mini-game that spans the length of the event on our Facebook page!
The 32nd SEA Games offer an opportunity to see the region's greatest athletes battle for glory, whether you intend to attend in person or watch from the comfort of your own home. Don't pass up the opportunity to see history being made and see who comes out on top.